Surviving Disney Cruise Embarkation Day (What You Need to Know)
Are you preparing for an upcoming Disney cruise and wondering how the embarkation process works?
There are few things more exciting than waking up on the morning of embarkation. The cruise countdown to your much anticipated vacation has finally reached the big day.
One of the final steps before setting sail is embarkation, when you and your fellow passengers officially board the ship. This step can be a little confusing if it's your first time going through it.
But don't worry, we're here to help! This guide will walk you through everything you need to know about embarking on your Disney cruise ship.
We'll cover everything from check-in times to how the embarkation process works. So, whether you're counting down the days until your cruise or are just curious about embarkation, keep reading for all the details!
Throughout this article, we will provide tips to help you have a smooth embarkation day. We'll include everything you need to know from what you should wear to board the ship to what you need to pack in your day bag!
What is Embarkation Day?
If you are new to cruising, you may be hearing some unfamiliar terms during the planning process. One of those terms may even be the word embarkation.
Embarkation Day is the first day that you board the cruise ship to set sail on your much anticipated vacation!
The Disney Cruise Line Navigator App even has a countdown to your specific cruise's embarkation day!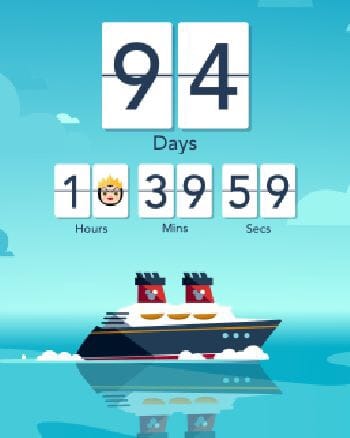 This is one of my favorite features of the app before boarding the cruise ship. Even though embarkation day is an incredibly exciting time, it can also be quite stressful, especially if you aren't sure what to expect.
We'll walk you through the whole Disney cruise embarkation process below.
Disney Cruise Terminal
Before discussing the time that you need to arrive at the terminal on embarkation day, I want to first talk about how you can get to the port.
There are many different ways you could choose to arrive at the Disney Cruise Line terminal, including by rental car, taxi, or motor coach.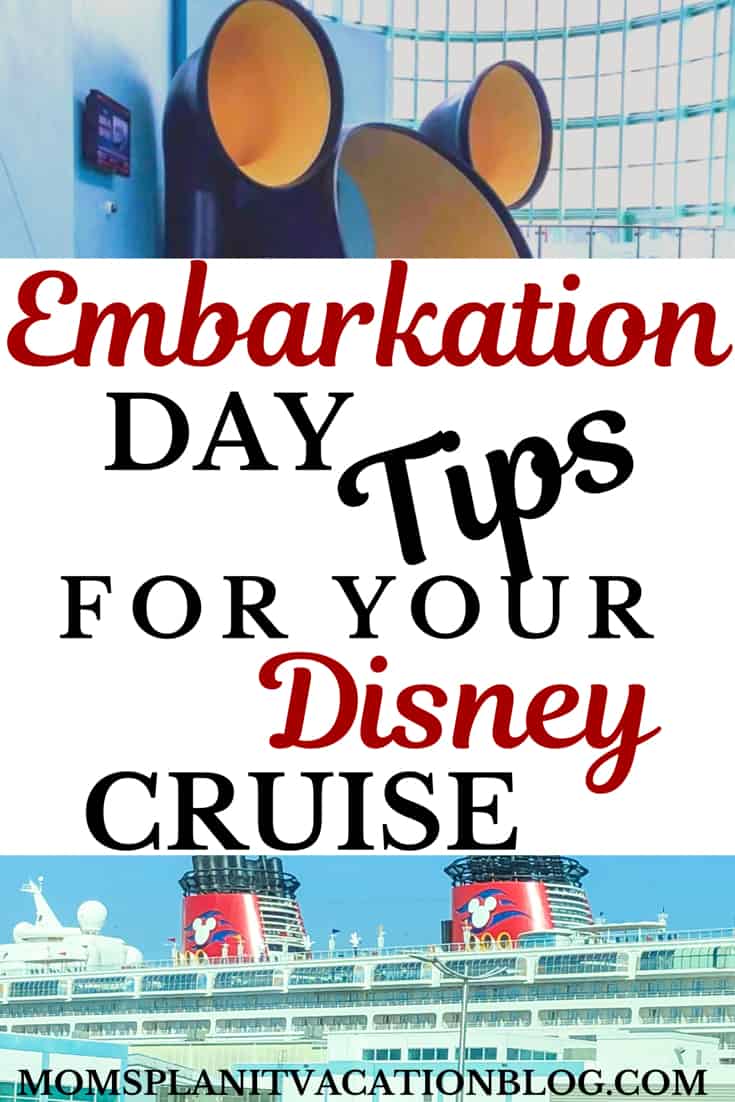 My family finds Disney Cruise Line ground transportation to be the easiest method to get to the terminal, especially since we travel with our small kids.
We prefer the DCL motor coaches because they handle our luggage, and they don't require car seats for our toddler and six-year-old. This allows for a much easier experience with getting through the airports with two little ones.
We have used the Disney Cruise Line transfers in both Port Canaveral and Miami, and I highly recommend them for ease of use and peace of mind!
Port Arrival Time
The Disney Cruise Line terminals open their doors at different times depending on the port where you are embarking.
For example, it has been my experience that the terminal in Port Canaveral opens earlier (around 10:30) than the one in Miami.
Regardless of when the terminal opens its doors, you should plan your arrival based on your Port Arrival Time. During the Disney cruise online check-in process, you should have chosen a time that you would like to arrive at the port.
The reason that you should arrive at the Disney Cruise Line terminal during your Port Arrival Time is that Disney will give you a boarding number BASED ON this selected time.
So, let's say you chose a Port Arrival Time (PAT) of 1:00. If you show up at the terminal early at 10:30, Disney still has you down for a 1:00 arrival.
This means that you will NOT receive a boarding number for a low group like Boarding Group #2. Instead, Disney Cruise Line will give you a boarding number based on your PAT of 1:00.
So, you may receive Boarding Group #15 even though you arrived at 10:30. This would mean a lot of waiting in the cruise terminal until your boarding group number gets called.
So, the important thing to remember is to arrive at the terminal based on your Port Arrival Time and NOT when the doors open.
Now, if you book Disney Cruise Line ground transfers, you will not get the chance to choose a Port Arrival Time.
If this is the case, you will arrive at the port whenever your Disney motor coach drops you off. DCL will then issue you a boarding group number based on your drop off time.
*Updated Note- Due to the Covid pandemic, Disney Cruise Line has pushed back Port Arrival Times to 11:00 or later. In addition, you will not be allowed to enter the terminal until your scheduled PAT.
As mentioned above, guests used to be able to arrive early and sit in the terminal. This is no longer the case.
Embarkation Day Check-in Process
After you arrive at the Disney Cruise Line terminal and give your bags to a porter, you will be guided to the main entrance of the building.
At both Port Canaveral and Port of Miami, you will immediately go through security as you enter the building.
Security
The security process is very similar to the one at the airport. You will be asked to present your Port Arrival Form (which you printed during the online check-in process), identification documents, and any other paperwork you printed during online check-in.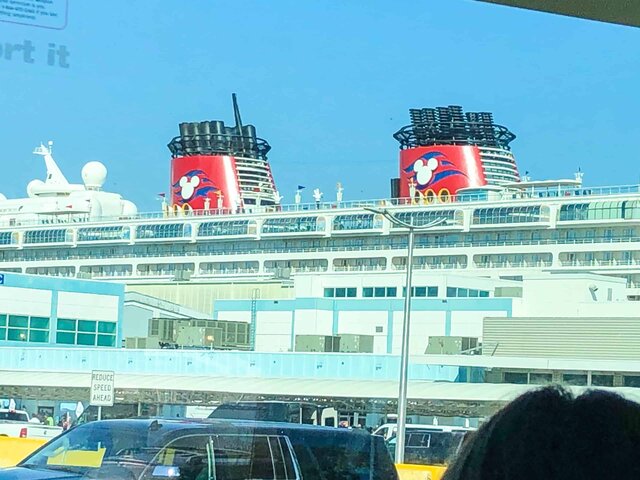 You then put your carry-on bags on a conveyor belt to go through an X-ray machine just like at the airport.
On our most recent cruise out of Miami, we were permitted to leave on our shoes as we walked through the metal detector.
However, we did put all metal and electronics in a bin to go through the X-ray machine with our bags.
Health Form
Once you go through security with your family, you will be directed to the check-in area at the terminal. Make sure you notice the different lines available.
There is a line for first time cruisers, a line for Castaway Club members, and a line for Concierge guests. So, be sure to stand in the correct one. A Disney cast member will hand you a health questionnaire near the check-in line.
It's a good idea to have a pen handy to fill out this form while you are waiting. The questionnaire is really short and just asks if anyone in your travel party has been sick with a fever or anything contagious.
Key to the World Cards
Even though the cruise terminal may have long lines of people, the Disney crew members moves you through the lines quickly.
They will have multiple (like 25) check-in counters available. The whole process for security and check in should only take about 15 minutes.
When you are at the check-in counter, you will show your Port Arrival Form and your important documents again. The cast member at the counter will take your family's picture for their computer system.
*Update- Due to the Covid pandemic, Disney Cruise Line is requiring guests to upload a selfie style photo to their account during online check-in.
The cast member checking you in will also give you your Key to the World cards and your bracelets for the kids club.
Once you have completed check-in, you will wait in the terminal until your boarding group number is called.
What time does Disney cruise start boarding?
If you are wondering what time Disney cruise boarding usually starts, it can depend. However, Disney usually starts calling boarding numbers at around 11:30.
It's important to note that this time may be different due to the recent pandemic protocol changes.
Disney Characters
While you're waiting in the terminal for the boarding process to start, it's a good time to look over the personal navigator that you get at check in. This paper is full of entertainment information and activity schedules.
The Disney Cruise Line Navigator App is also full of tons of information about your cruise. So, make sure you have it downloaded as well.
Depending on where you are embarking, Disney Cruise Line may even have characters in the terminal for you to meet while waiting to board!
Group Numbers
Once boarding begins, you will hear group numbers called out in the terminal. They will start with Group 1, which is for Concierge and platinum guests.
They will then continue in numerical order until everyone is on the ship. Usually only 5-10 minutes goes by between each group number. Although, Disney may be spreading out the groups more due to Covid.
Hundreds of people are boarding with each group, so there will be a line. Luckily, it moves quickly as people swipe their Key to the World cards and step onto the ship.
What to Do after Boarding
Once you have made your way onto the Disney ship, you may be wondering what to do after boarding. Depending on the time you step foot on the ship, you will probably want to grab lunch.
Below, we will discuss our favorite embarkation day lunch spots along with other activities we complete soon after boarding.
Embarkation Day Lunch
Each of the Disney ships offers a sit-down meal for lunch in a main dining room. This is a good option for those who would like to be seated and served by a cast member.
Since my family and I tend to head straight to the pool deck after boarding, I usually grab a table for us all to sit near the pools.
Then, we grab food from one of the quick service windows near the pool. These dining options are super kid friendly with entrees like hot dogs, hamburgers, chicken tenders, and pizza.
There are usually healthier options like salads and wraps available too. My husband loves the restaurant, Cabanas, which serves an embarkation lunch buffet.
So, he will typically get his food there and carry it to our table on the pool deck.
Guest Services
After eating lunch, I usually have a few house keeping items on my list to complete. One of the first places I visit is Guest Services.
We like to borrow a stroller for our toddler to use during the cruise even though we don't use it a ton on the ship because the hallways are so narrow.
Additionally, the elevators can get really busy, so we often use the stairs, which obviously are not stroller friendly.
Still, the stroller comes in handy during nap times on the go and when you get off the ship in port.
To borrow a stroller, you just visit Guest Services where they will put a temporary charge on your account. I think it's around $250.
Once you return the stroller at the end of your cruise, they will remove the charge from your account. I particularly like having the stroller for when our toddler wakes early in the morning.
It's nice to be able to stroll around Deck 4 while my older daughter and husband sleep in the room. We also take the stroller onto Castaway Cay with us.
This makes it easy for my toddler to still take her nap without the rest of us having to go back to the ship. The stroller that Disney Cruise Line has available on board is the City Mini Baby Jogger.
It has a storage area underneath that is super accessible. It also features a huge canopy with windows to keep your baby shaded.
There is a handle on the seat of the City Mini that you simply lift to make the whole stroller fold up like a suitcase. You can store the stroller in your room, under the bed, or even in the closet.
Staterooms
Staterooms on the ship usually open at 1:30. If you have booked a concierge level room, your stateroom should be ready immediately upon boarding.
I usually head to the room right at 1:30 to put our toddler down for a nap.
As she's napping, I organize our things in the room as much as I can. The stateroom host typically starts delivering luggage at this time.
I've also heard a lot of families like to order a cheese plate or snack from room service after getting into their rooms.
I try to get as much as possible unpacked during this time if our bags have arrived.
Muster Drill
At around 3:30, the captain will start making announcements about the upcoming Muster Drill. You can look on your Key to the World card to see which station you need to report to for this mandatory procedure.
For the drill, you will be asked to line up with your travel party from shortest to tallest. You stand shoulder to shoulder with the cruisers on each side of you.
The Disney Cruise Line staff will then give you information on their emergency procedures. Once it begins, the muster drill only lasts about 15 minutes or so.
Sail Away Party
After the Muster Drill, most cruisers head to the pool deck to attend the Sail Away Party. We like to stand by the balcony above the pool deck to look down on the party.
However, if you stand on the deck near the stage, you have a chance of greeting the characters as they walk out into the crowd.
The Sail Away parties are a great way to get even more pumped about the cruise!
Cast members and characters spend about 30 minutes dancing to fun songs and telling you about some of the fun activities planned for your trip.
Disney Cruise Carry On Bag
As mentioned above, before you enter the cruise terminal, the porters will take your luggage from you. Even though it has been my experience that luggage tends to arrive to the stateroom by 4:30, this is not guaranteed.
Sometimes your bags may not be delivered to your stateroom until later that evening AFTER dinner. Because of this, you will probably want to pack an embarkation bag to carry on to the cruise ship with you.
I prefer to use a backpack as our embarkation bag because it's easy to carry while still allowing full use of my arms.
This is the backpack I use as a diaper bag, airport carry-on, and embarkation bag all in one! (Amazon Affiliate Link)
Packing List
The official Disney Cruise Line website provides a small packing list for your embarkation day bag. You can find their suggested list here.
I have expanded on the DCL list, and these are the items I typically pack in my embarkation bag:
lanyards- to hold your Key to the World cards
reef safe sunscreen – We like Blue Lizard. (Amazon Affiliate Link)
sunglasses
gallon zip lock bag- to hold wet swimsuits
change of clothes for dinner (more on this below)
prescription medications
seasickness remedies – We use seasickness bands. (Amazon Affiliate Link)
chargers for electronic devices
identification (passports/birth certificates)
Port Arrival Form (that you printed after online check-in)
dollar bills- to tip driver and porters
pen- to fill out health form in terminal
If you have a baby or a toddler like I do, you will want to make sure to carry on your child's diaper bag with baby essentials.
This includes enough diapers and wipes to get you through the day. Also, don't forget to pack a couple swim diapers for the toddler splash area!
What to Wear on Embarkation Day
Deciding which outfits to pack for your family can be a tedious process, especially if you aren't totally sure what to expect at your destination.
When I am planning outfits for embarkation day, I first take into account the weather. We typically cruise in warmer climates, so that is what I will mostly focus on here.
Obviously if you are going on an Alaskan cruise, your embarkation outfit would look a whole lot different than mine!
Disney Cruise Outfits for Kids
Once I have a good idea of what the weather will be like on embarkation day, I determine the activities that my family will most likely be doing once we board the ship.
My kids love to swim, and they are usually most excited to experience the cruise ship's pools and water play areas. Because of this, I dress both of my kids in their swimsuits so that they don't have to waste time changing on board.
My toddler is still in diapers, so I like to put her in a swimsuit that still allows for easy diaper changes. We tend to dress her in a swimsuit that has separate bottoms or that has a bottom that snaps.
This way we have easy access to diaper changes in the terminal and on board.
I usually have my girls wear comfortable dresses over their swimsuits with flip flops or water shoes on their feet.
This makes it easy for them to get undressed. I also find it much easier to keep up with one dress per child as opposed to shirts AND shorts.
You could even let your kids wear their swimsuit coverup to board the ship. We always see lots of kids doing this on embarkation day.
I created a Disney Cruise Planner and Packing Guide (pictured above) that makes it super easy to plan your outfits for each day of your cruise. If you are interested, you can check it out in my Etsy shop!
Disney Cruise Outfits for Adults
Since we usually spend our time on the pool deck after boarding the ship, my husband and I typically wear clothes appropriate for hot weather.
My husband usually dresses in shorts, a T-shirt, and sandals. I tend to wear shorts with a T-shirt or a sundress with sandals.
I don't wear my swimsuit under my clothes because I usually don't swim on embarkation day. Instead, we let our older daughter swim while one of us sits on the side of the pool to watch her.
The other adult usually goes to the toddler water play area with our younger daughter. I like to wear flip flops or sandals for boarding so that I can easily slip them on and off on the pool deck.
Disney Cruise Dinner Outfit
Regardless of what you choose to wear on embarkation day, know that it's a super casual day.
Even dinner that first night of the cruise is a really casual experience. As mentioned above, I make sure to pack our dinner outfits in our carry-on bag in case our main luggage does not arrive in time.
After swimming, my girls will take off their swimsuits and put on the dresses they wore while boarding. (Don't forget to pack underwear for the kids to put on too!)
I typically find the dining rooms cold on the ships, so I make sure to have light cardigans/jackets in our embarkation bag for each of us. My husband usually doesn't change for dinner on embarkation day.
He just wears the same shirt and shorts from boarding. Since I tend to get cold in the evenings, I put a pair of jeans or leggings in the day bag. I change into these after the Sail Away party.
Disney Cruise Concierge Embarkation Lunch and Perks
On a recent Disney Cruise Line vacation, may family and I were able to upgrade at the port to the Concierge Level.
If you are sailing in the Concierge Level with Disney Cruise Line, you will receive some special benefits on embarkation day. These are the Concierge perks that were available for us on embarkation day:
Priority Boarding
Concierge guests are permitted to board the Disney cruise ship in Boarding Group 1. This means that as soon as boarding becomes available, you will be escorted onto the ship.
Private Embarkation Lunch
Concierge guests are able to attend a sit-down lunch on embarkation day in one of the ship's main dining rooms. You will be served food and complimentary beverages (including alcoholic drinks) at this lunch.
You will also meet your Concierge Team at this time.
Stateroom
Concierge guests get early access to their staterooms on embarkation day. Instead of waiting for rooms to open at 1:30, you can go directly to your room after boarding and enjoying lunch.
Concierge Team
Your Concierge Team will make notes of your special requests at your embarkation day lunch. You can request a stroller, dinner reservations, or virtually anything you can think of without having to stand in line at Guest Services.
Now You're Sailing!
Embarkation day is such an exciting time for your whole family! Hopefully this post has helped you feel prepared for your fun-filled day.
All the worries and stress that you feel pre-cruise magically seem to go away as soon as you climb onboard the Disney cruise ship.
Just do your best to pack and plan for embarkation day, but don't forget to enjoy yourself once onboard.
The embarkation day lunch, fun pool deck, and helpful cast members will have you feeling like you're on a luxurious vacation in no time!
Do you have any Disney cruise embarkation day tips to share?
Comment below with your info. or questions!