Concierge Family Oceanview Stateroom with Verandah [Ultimate Video and Picture Tour]
Are you looking for stateroom reviews from a Disney Magic Concierge suite or cabin?
One of the room categories that has the largest cabins on the Disney Cruise Line ships is the family oceanview stateroom with verandah. These rooms offer plenty of space for the whole family.
My family and I have sailed in this spacious stateroom category on the Disney Magic and the Disney Fantasy. We really enjoy the extra room and storage they provide.
Most recently, my family and I upgraded our stateroom to the Concierge Level on the Disney Magic.
In this post, I will review our Concierge Family Oceanview Stateroom with Verandah, including the amenities provided in our cabin.
I will also include pictures and a video tour of our room and split bathrooms.
(Some of the links in my posts are affiliate links. If you make a purchase through one of these links, I may receive a small compensation at no extra cost to you. As an Amazon affiliate, I earn from qualifying purchases.)
Deluxe Family Oceanview Stateroom with Verandah

Whether you are cruising on the newer Disney ships (Disney Dream/Disney Fantasy) or on the classic ships (Disney Magic/Disney Wonder), the Deluxe Family Oceanview Staterooms with Verandahs are very similar.
Boasting close to 300 square feet of space, these staterooms contain two bathrooms AND extra storage space for guests.
When you first walk into the stateroom, you are greeted by a narrow entryway with your stateroom closets on one side and the split bathrooms on the other.
Disney Magic Cabin Bathrooms
Disney Cruise Line provides two separate (aka split) bathrooms in their deluxe and Concierge staterooms. One bathroom houses the toilet and a sink with vanity area.
We were provided with a toothbrush holder and extra supplies like Q-tips in this bathroom.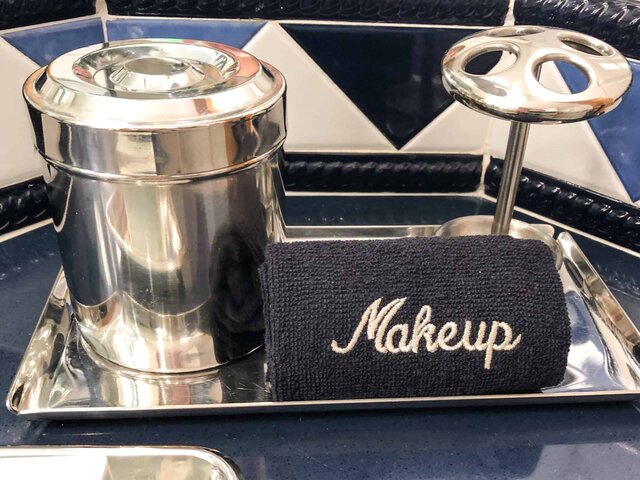 The second bathroom has a shower/tub combo and a sink with a vanity.
This shower/tub combination is one of the big draws to Disney Cruise Line if you are cruising with a baby or toddler.
The large pump bottles on the sink were provided by DCL. They included shampoo, conditioner, body wash, and lotion.
Disney Magic Room Photos
If you continue moving through the entryway, you will enter the living space of the cabin with a bedroom and sitting area.
Each side of the bed has a small nightstand with storage and outlets to charge your devices.
The staterooms on Disney cruise ships include a thick curtain (pictured above) to use as a room divider. This curtain works really well to keep out light and noise from the other side of the room.
In the living area of your stateroom, you will find a sofa (which turns into a bed at night) and a chest for additional storage space.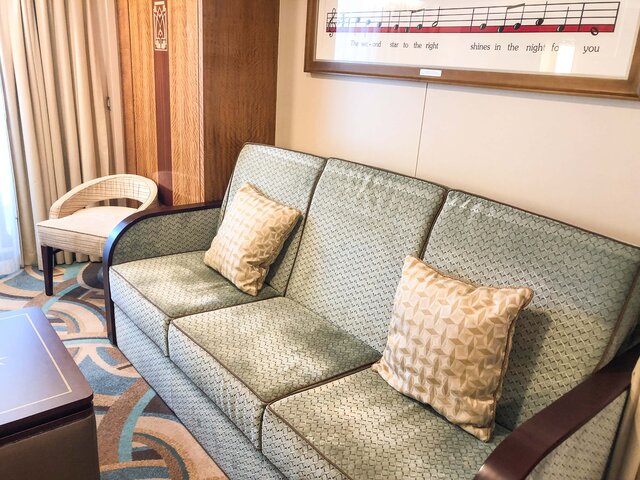 Our room also held a Murphy Bed and an extra chair, both of which you can see in the back of the above photo.
The Murphy Beds on the Disney cruise ships allow the staterooms to sleep up to 5 people.
The large dresser in the room also serves as a desk and vanity. This area holds a TV, mirror, and lots of drawers and shelves.
Your stateroom refrigerator, hair dryer, and additional pamphlets and information on Disney Cruise Line are all located here as well.
Along with providing additional space, the verandah also holds two chairs and a small side table.
Disney Cruise Bunk Beds
No matter which category of room you choose with Disney Cruise Line, your stateroom host will provide a nightly turndown service.
We did not need the Murphy Bed that was in our room, so our host left it closed each night.
However, he did open the bunk bed from the ceiling. This is where my six year old slept, and it was one of the highlights of the trip for her!
The stateroom hosts also leave a towel animal at the foot of the bed each night with chocolate treats.
My older daughter loved returning to the room each night to see what type of animal was waiting.
Baby and Toddler Amenities
If you are traveling with a baby, the stateroom host can set up a pack-n-play for you in your room if needed.
We usually forgo the pack-n-play and just have our host put a bed rail on the pullout couch or bed for our toddler.
Cabin Storage and Organization
The Concierge staterooms and the Deluxe Family Oceanview Staterooms with Verandah come with tons of storage space.
My family of four had plenty of room for all of our things on our five-night Western Caribbean cruise.
Since the beds are elevated, you should be able to store your suitcases and bags underneath it no matter which category of room you book.
We had two large suitcases and several small bags, and they ALL fit under the stateroom bed with room to spare.
I often travel with a hanging closet shelf (pictured above) for additional storage and organization. These are super easy to pack because they fold up flat and don't take up much space in your luggage.
You can see the closet organizer I have here! (Amazon Affiliate Link)
The rest of our things fit comfortably in the available drawers and shelves in the room. In fact, we even had extra shelves we didn't use.
One of my favorite ways to stay organized in the stateroom (or on any vacation) is by using packing cubes. Each member of my family has a set in a specific color.
When I unpack our luggage, I simply take out the packing cube and lay it on a shelf or inside a drawer.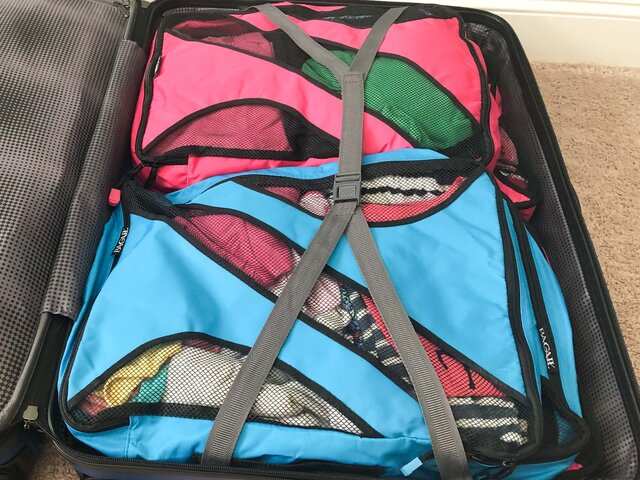 I can stack several cubes on top of each other without mixing up all of the items.
So, I could put my toddler's pajamas in her pink packing cube and my older daughter's pajamas in her blue packing cube.
Then, I can place them in the same drawer without them getting scattered and mixed.
You can see the packing cubes that we all use and love here. (Amazon Affiliate Link)
My husband travels a lot for work, and even he said they are one of the best things I've ever ordered from Amazon!

Concierge Room Amenities
The Disney Magic staterooms include many amenities such as a refrigerator, hair dryer, and toiletries as mentioned above.
If you are sailing Concierge, your stateroom's refrigerator will be stocked with bottled water and canned soda.
If you are sailing in the Concierge Level, your Concierge Family Oceanview Stateroom with Verandah will include additional amenities. Some of the extra special Concierge touches you will find are:
two televisions (one in bedroom/one in living area)
robes
slippers
fruit basket
If you are interested in reading about how my family upgraded our stateroom to Concierge at the port, you can check out this post:
Video Tour of Disney Magic Concierge Stateroom
This video tour is of a Concierge Family Oceanview Stateroom with Verandah. Specifically, this is room 8076 on the Disney Magic.
If you have any questions about the room, feel free to comment below, and I will be happy to give extra input!
We loved the location of this room because it was right by the stairs leading up to Cabanas and the pool deck.
My only complaint would be that we could hear chairs being dragged across the floor on the Disney Magic pool deck above.
This wasn't a huge deal for us because my toddler wakes up super early anyway. We also sleep with a noise app that helped to drown out the sound of the chairs.
Disney Cruise Adjoining Rooms
Some of the staterooms on Disney cruise ships have a door that connects them to the next room.
These adjoining staterooms come in handy if you are booking two separate rooms for your family.
The downside to these connecting doors is that noise seems to travel through them more than it does through the walls.
On our last cruise, we could hear the baby in the room beside us through the adjoining door. This is just something to think about when booking your stateroom on your next cruise.
Final Review of the Disney Magic Concierge Stateroom
Disney Cruise Line does a fantastic job of providing storage space and room amenities that meet the needs of families.
It is our favorite way to travel with young kids because DCL truly works to make your vacation super stress free.
I don't think you can go wrong no matter which stateroom you choose to book.
Have you sailed in a Family Oceanview Stateroom with Verandah on the Disney Magic?
What did you like most about it? Comment below and let me know!