Disney Cruise Concierge Level Perks- Honest Review
Are you trying to decide if the service and amenities included with Disney Cruise Line's Concierge Level is worth the price?
My family and I recently cruised in the Concierge Level on the Disney Magic on a 5 night Western Caribbean itinerary.
We had an AMAZING time on this trip, and the Concierge benefits were so much fun to experience!
If you are wondering what you get from the Concierge Level, I will discuss the perks included in the price. I will also provide reviews on these benefits, including whether or not the cost is worth it!
(This post may contain affiliate links. If you make a purchase through one of these links, I may receive a small compensation at no extra cost to you. Please see my disclosure policy at the bottom of this page for more details.)
What is Disney Cruise Line Concierge Level?
Disney Cruise Line offers a special, luxury level of service known as Concierge Level. When you are booking your Disney cruise, you will see the staterooms and suites that are categorized as Concierge.
These rooms range from a Family Oceanview Stateroom with a Verandah to the Royal Suite, which has multiple bedrooms and bathrooms. If a Concierge level room is available for you to book, you will pay a higher price because special services and amenities are included.
If you are wondering what is included with Concierge Level, I will discuss these perks in more detail below!
Disney Cruise Concierge Price
On my family's most recent cruise, we had originally booked a Deluxe Inside Stateroom. However, about a week before sailing, my husband and I decided that we would really like to have a room with a verandah.
Our younger daughter was one at the time, and she wasn't the greatest sleeper. So, we thought a verandah would really come in handy when our toddler woke up super early in the morning.
Since the rooms with verandahs were over a thousand dollars more than the inside stateroom we had booked, we decided to just wait and inquire about upgrading our room at the port.
We were prepared to keep our inside stateroom if an upgrade was not available. But, we were hoping to find a room with a verandah without having to pay over a grand for it!
Luckily, once we arrived on the DCL shuttle, Disney Cruise Line had Concierge staterooms (with verandahs) available at the terminal on embarkation day.
Even though these rooms were priced a bit higher than we originally wanted to spend, we just couldn't pass up the opportunity to sail in a Concierge Level room!
The price of sailing Concierge really depends on the itinerary, travel party, and type of room. On our recent 5 night cruise on the Disney Magic, the Concierge staterooms were more than double the price of an Inside Stateroom.
Furthermore, the 1 Bedroom Concierge suites were priced at three times as much as an Inside Stateroom.
If you are planning on booking a Family Oceanview Stateroom with Verandah anyway, the Concierge staterooms may not be a HUGE amount more.
When we upgraded to the Concierge Level at the port, the price we paid was close to half of what it would have cost to book the room ahead of time.
I'll delve more into whether or not it was worth it below!
Disney Cruise Concierge Benefits
When we upgraded to the Concierge Level, we were never given a list of benefits that come with it. So, I am pulling this information on Concierge amenities from our experience and my research.
Are you trying to narrow down your cruise options? Check out Disney Cruise Line itineraries and pricing here. Plus, get access to price trends!
If you know of an additional perk offered in Concierge that I missed, please comment below and let me know!
Requests
If you book a Concierge Stateroom rather than upgrade to one at the port, you can complete your online check in 120 days before your cruise. This is significant because it allows you to book activities in advance before they sell out.
One of the most sought after amenities on a Disney cruise is a cabana on Castaway Cay. These typically sell out really quickly.
If you are able to book activities at 120 days before sailing, your odds at getting a cabana increase significantly. Since we upgraded to Concierge at the port, we did not get to experience this benefit.
Luckily, I was able to book all the activities we wanted during my online check in anyway. So, this wasn't a huge deal for us.
Check In and Boarding
One of the first perks Concierge guests are able to experience is priority check in at the port. When you arrive at the port on embarkation day, you will notice a separate check in area set aside for Concierge Level guests.
This means you get to bypass any long lines that have formed at the regular check in stations. In addition, you will receive priority boarding so that you are one of the first guests allowed to board the ship.
After we upgraded our room at the port, the supervisor updated our Key to the World Cards to reflect our new stateroom information. This supervisor also gave us a new Boarding Card with Group #1 listed on it.
It was around 11:45 at this time, and boarding had just started in the Miami terminal. My family and I were able to walk right over to the gangway and board the Disney Magic immediately after checking in.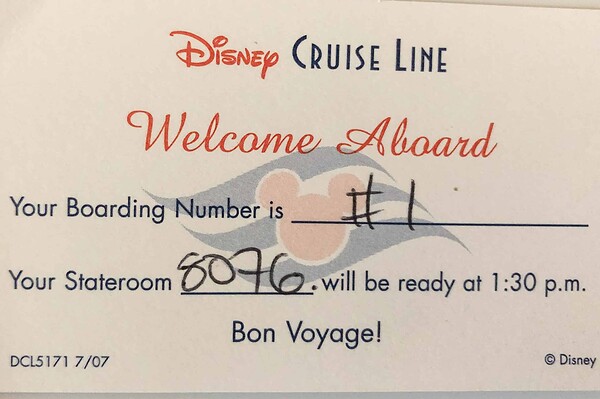 We had originally been assigned to Boarding Group #2, so this wasn't a HUGE difference for us. However, it was nice not having to kill time in the cruise terminal with our two little kids in tow!
Concierge Embarkation Lunch
We usually like to eat near the pool deck on embarkation day because my kids are always eager to swim. However, while checking in at the port, we were given a letter with information about a special embarkation lunch for Concierge guests.
So, instead of eating our embarkation lunch at Cabanas or on the pool deck, we headed to Rapunzel's Royal Table for the Concierge lunch.
The host at the door checked our name off his list and showed us to a table. A server came by to hand out menus and to take our drink order. Alcoholic beverages were available for no additional charge.
As we ate, one of the concierge hosts came over to introduce herself. She gave us a packet of information with an itinerary showing everything we had previously booked for the cruise.
We didn't have plans to book any extra items, but the concierge host let us know that we should contact her if we needed to change or add anything.
Room Benefits
One major Concierge perk for us was that our stateroom was available immediately after boarding. Typically, the cruise cabins aren't open until around 1:30, which is right in the middle of my toddler's nap time.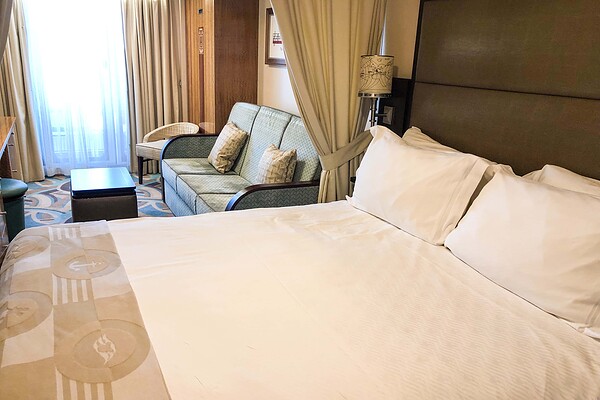 We were able to go straight to our room after lunch. This allowed me to put our one year old down for her nap at her regular time. In addition to gaining early access to your stateroom, the Concierge rooms come with higher quality touches as well.
Robes and slippers were available inside our stateroom closets. Also, our cabin refrigerator was stocked with bottled waters and canned drinks.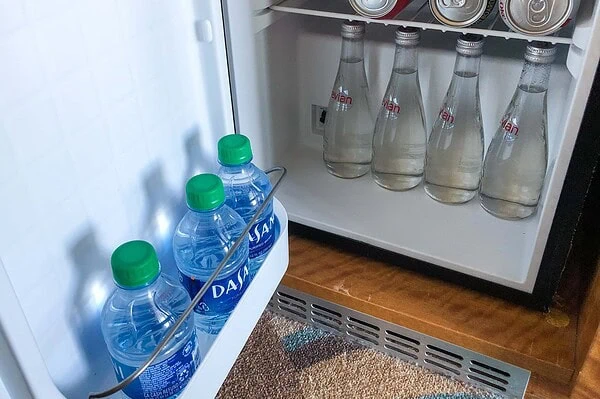 We also had two TVs in our stateroom: one across from the bed and one across from the couch. I had read about a pillow menu where Concierge guests are able to choose which type of pillows to have on their beds.
I did not see this menu, and this amenity wasn't important to us so I didn't ask. We all slept really well on the beds and pillows provided.
Alcohol
Does Disney Cruise concierge include alcohol? This question is one I'm asked about a lot.
The short answer is that it does, but with limitations. We were offered alcoholic beverages at our embarkation lunch as mentioned above. In addition, the Concierge Lounge provides a happy hour each evening with a bartender.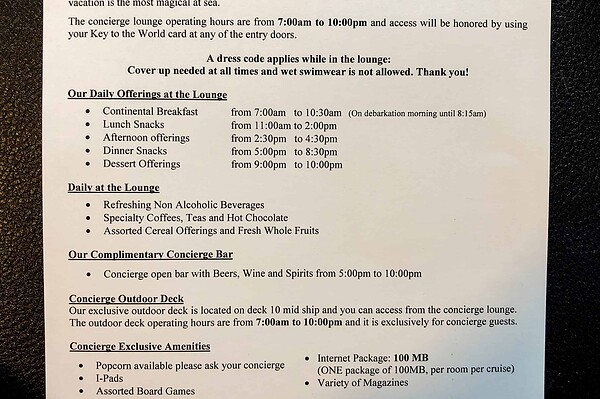 My husband and I would swing by the Concierge Lounge each evening before dinner to each grab a glass of wine. We were able to take these with us to the dining room each night rather than ordering (and paying for) a glass of wine at dinner.
The Concierge bartender also served us drinks in the lounge before the nightly Broadway style shows. Since she knew that we were going to the theater, the bartender put our drinks in glasses that fit inside the cup holders of the theater seats.
Free Drinks and Food
In addition to getting adult beverages for the theater shows, we also used the lounge to grab snacks for the kids. Each evening, the Concierge Lounge provided popcorn, gummy bears, and drinks for our daughters to take to the show.
The lounge had specified times for snacks and desserts each day too. You can refer to the photo in the section above to see the schedule.
Beside this buffet of offerings, the lounge has a huge refrigerated section full of bottled waters and canned drinks. Coffee, tea, and hot chocolate were also available at all times in the lounge.
Concierge Lounge
As mentioned above, Concierge guests receive access to the Concierge Lounge. This lounge is a perk in and of itself!
Since this area is only for those cruising Concierge, you must use your Key to the World Card to unlock the door to the lounge. Once inside, you will find tables and chairs for relaxing and enjoying the food and beverages available.
There is also a private sun deck that Concierge guests can access via the Concierge Lounge. This sun deck holds additional seating, and was always pretty empty and really quiet during our cruise.
Sunscreen and pool towels are also available for guests on the sun deck.
Special Treats and Gifts
Concierge guests receive special gifts from the team throughout their stay. One of the first items we received was a fruit basket, which was waiting in our stateroom for us when we first arrived.
We also returned to our room one evening to find Mickey Mouse Rice Krispie Treats for our two kids. In addition, on the last evening of our cruise, the Concierge team left a beautiful lithograph showing Disney characters as a departing gift.
Internet
In addition to the free 50 MB WiFi package that is available to all Disney Cruise Line guests on the first day of the cruise, Concierge staterooms receive another 100 MB for free.
**Note that this is per stateroom and NOT per person.
My husband accessed the 100 MB on his phone at the beginning of our trip, and it lasted him the whole 5 days.
In Room Dining
If you book one of the Concierge Suites, your cabin includes a dining table. This allows you to order meals from the main dining room to enjoy in the comfort of your stateroom.
So, if you don't want to go to dinner one night, you can have it delivered right to your stateroom. Again, this in room dining perk is only available in suites and NOT in the Concierge Family Oceanview Staterooms with Verandahs.
Concierge Team Services
One of the biggest perks to sailing Concierge is that you have a Concierge Team who provides exceptional service. The Concierge Team on our cruise consisted of three main hosts who went above and beyond to make our vacation memorable.
They seemed to immediately know all of our names, and they were always so friendly and eager to help. At our embarkation lunch, the Concierge Team let me know that any requests I had should go through them.
They even gave us a special number to dial on our phone if we needed anything at all. This meant that I never needed to stand in line at Guest Services on the ship.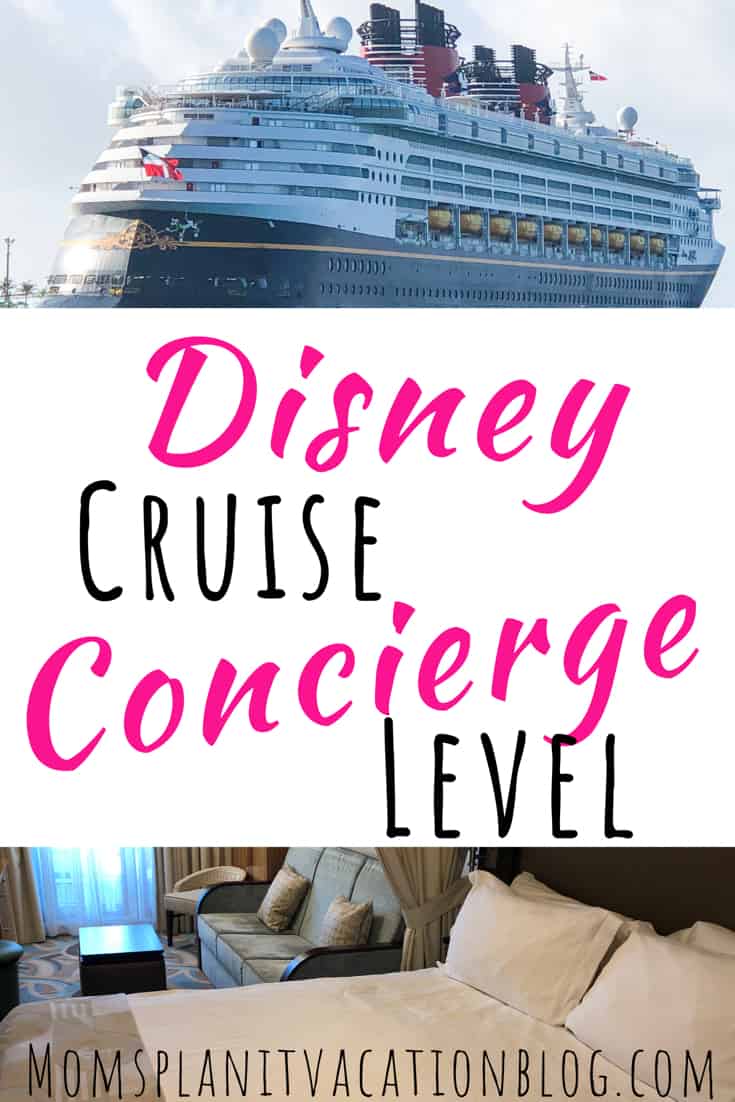 I had planned on borrowing a stroller from Guest Services on embarkation day. When I mentioned this to the Concierge host, she assured me that one would be brought to me.
At the end of our cruise, I did not have to return the stroller to Guest Services. Instead, they asked that I just leave it in our stateroom.
In addition, I didn't have to stand in line to book a placeholder at the future cruise desk. The Concierge hosts took care of booking my future cruise right inside the Concierge Lounge.
**Note that the Disney Cruise Navigator App is supposed to allow you to book this directly on the app now. For some reason this feature wasn't working on my App, so the Concierge host took care of it.
Private Dining Table
This was another perk that we really enjoyed! I always call DCL before our cruise to put in a request for a private table at dinner. Then, I normally double check this request after we eat our embarkation lunch.
There was no need for me to spend time waiting in line for dining changes to check this request because Concierge guests automatically get their own table at dinner.
Also, our table each night seemed to be in a priority location in the dining rooms. For example, our table in Rapunzel's Royal Table was right in front of the stage. So, we had an excellent view of the entire dinner show!
Priority Tendering
This Concierge perk came in really handy this trip because one of our ports of call was Grand Cayman. When visiting Grand Cayman, cruise ships stop just offshore, and guests ride to the island on tender boats.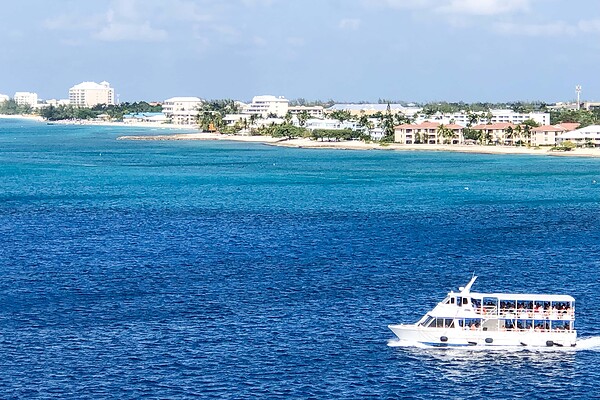 You can see the tender boat in the bottom right of the photo below. Disney Cruise Line has a whole process for moving passengers to the tender boats. We did not have to get tickets or wait in line for this, though.
Instead, one of the Concierge hosts walked us down to Deck 1 where we were able to bypass the line and board the tender.
Character Meet and Greet
Concierge guests are treated to a private reception with beverages and entertainment. A Disney character also makes an appearance at this reception.
This means your family can take photos with a character without waiting in one of the ship's typical character lines. During the Concierge reception, we were served mimosas and smoothies.
Entertainment was also provided in the form of a pianist playing popular Disney tunes and carolers singing Christmas songs. (We were on a Merrytime themed cruise in December.)
Pluto was our special character guest. He walked around the room and spent time with each family.
Concierge Disembarkation
Much like priority embarkation, Concierge guests are also able to disembark first. The morning of debarkation, we met the Concierge Team inside the lounge.
One of the hosts escorted us all down to the gangway to disembark the ship. In addition, the Concierge team checked us in for our flights the day before we arrived back in Miami.
Our printed boarding passes for our flights were waiting for us in our room the day before we were scheduled to leave.
Concierge Tipping
Gratuities are an additional cost during any Disney cruise. DCL automatically adds $14.50 per person per night to your account to cover tips for your servers and room host.
The Concierge Team is NOT included in this $14.50. Therefore, you are left to tip at your discretion.
*It's important to note that Disney Cruise Line recently updated their guidelines and now recommend Concierge guests pay $15.50 per person per day.
At the time of my sailing, I had no idea what an acceptable amount for Concierge tipping was, so I did a quick Internet search while we were on board the ship.
I found that a lot of Concierge guests tipped roughly the same amount, so my husband and I followed their advice.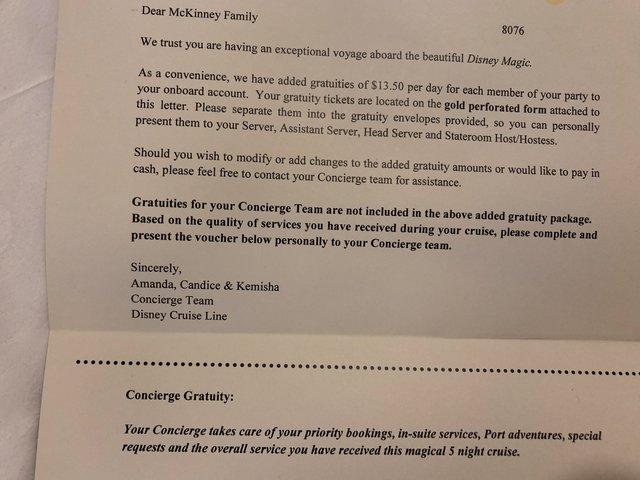 Obviously, you may choose to tip your Concierge team much more or less than what we chose.
We really enjoyed the Concierge team, and they felt like good friends of ours by the end of our cruise.
That being said, I don't feel like we were exceptionally needy of their services. I only contacted them with special requests a couple of times:
to obtain a stroller
to book a placeholder.
We probably would have left more if we had required more of their attention.
So, how much should you tip?
As mentioned above, Disney Cruise Line recently updated their tipping guidelines for Concierge guests.
In addition to paying $15.50 per person per day for your dining servers and stateroom hosts, guests are encouraged to pay $8.00 per person per day for the Concierge Lounge team.
At the time of our cruise, we ended up leaving a $500 tip for the Concierge Team. In addition, I had read advice to tip the bartender $20 per day. So, we did this as well.
Again, you may feel that this is tremendously low or incredibly high. Tipping is so subjective that I debated even discussing it.
If we travel in the Concierge Level in the future, we will stick to the guidelines recommended by Disney Cruise Line.
Although we tend to add a bit of cash to the tipping envelopes for a cast member who displayed exceptional service.
Is Disney cruise Concierge worth it or not?
Now, the million dollar question….Is Disney Cruise Concierge Level worth it? Like the subject of tipping, this is completely subjective, but I will give you my family's candid thoughts.
We LOVED the Concierge team, and they made our trip run more smoothly because it was like having a personal assistant taking care of our errands for us.
In addition, we really liked the lounge and the availability of adult beverages and snacks for the nightly shows. So, the service was exceptional!
Our Concierge Stateroom was not anything special, though. In fact, I prefer the regular staterooms on the Disney Fantasy and Dream to the Concierge Stateroom on the Disney Magic.
The couch, curtain, and carpeting all looked dated to me…..clean, but dated. So, don't book a Concierge Stateroom merely for upgraded finishes in the room because you may be disappointed.
After deciding for myself whether or not Concierge was worth it, I asked my husband what he thought. Surprisingly he had the exact same answer that I had come up with.
We both agreed that it probably wouldn't have felt "worth it" to us if we had paid full price for it. However, we both felt that the price we paid to upgrade at the port (about half of the actual cost) was worth it!
Do you think the Disney cruise concierge perks are worth the price?
Comment below and let me know!