How to Use Disney Cruise Transfers (for Ground Transportation)
Have you ever been on a Disney cruise? If not, I highly recommend it! Not only is the ship itself amazing, but the ports of call are wonderful as well.
If you're worried about organizing your transportation to and from the port, we highly recommend considering Disney Cruise Line ground transportation.
Depending on where you are sailing from, DCL offers shuttles to transfer Disney Cruise Line guests to and from the airport, local hotels, Disney resorts, and the port itself.
This service is super easy, and it's very convenient!
If you're thinking about cruising with Disney, don't let transportation concerns stop you – just leave that to the pros!
Whether you are sailing out of the Miami port or flying into the Orlando International Airport, Disney Cruise Line typically offers ground transfers for a reasonable cost.
In this post, I will detail the Disney cruise ground transportation options you will most likely find for your vacation.
I will also compare the Disney Cruise Line ground transfer process in Miami to that in Port Canaveral.
So, continue reading below for all the info you need on Disney Cruise Line ground transportation!
(This post may contain affiliate links. If you make a purchase through one of these links, I may receive a small compensation at no extra cost to you. Please see my disclosure policy at the bottom of this page for more details.)
Transportation Options
Disney Cruise Line ground transportation is not always the cheapest way to travel, but it is typically the easiest option.
Before we discuss how Disney Cruise ground transportation works, let's discuss the various transportation options you have when cruising.
Taxi or Uber
There are loads of taxi and Uber drivers at both the Miami airport and the Orlando airport who are available to take you to the cruise port.
These options usually come at a much cheaper cost than that of the Disney Cruise Line ground transfers.
However, families with small children may have a difficult time securing a vehicle with car seats for their little ones.
If you choose to travel with your own car seats, it's important to keep in mind that you will need to store them in your cruise cabin throughout the duration of your cruise.
Rental Car
Families could book a rental car for their cruise vacation, but those with small children would still need to organize car seats for the trip.
Many rental companies offer car seats for an additional fee if you don't want to lug your own car seats through the airport to use in the rental car.
If you choose to rent a car and park it at the cruise terminal, you will want to add the additional charge for this onto your cruise budget.
Each cruise port has its own fees for using the parking lot, so the charge for this will depend on where you are departing for your cruise.
At the time of this post, the Port Canaveral Cruise Terminals charge $17 per day in parking fees to park your vehicle.
Private Transfers
Many cruisers opt to hire private town cars to transport them from the airport or hotel to the cruise terminal.
Private transfer companies located at each cruise port will have options to pick you up on your cruise departure day and at the end of your cruise.
This is a great option for those traveling in a large party or for those who prefer private transportation.
Disney Transportation
Although it may not be the least expensive option, my family and I like to use the Disney bus to transport us to the Disney Cruise Line terminal due to the simplicity of the process.
Those traveling with small kids needing car seats will be pleased to know that the Disney Cruise Line shuttle bus does not require (nor does it allow) car seats onboard.
This is probably the biggest benefit for us, and it's the main reason we like to use Disney cruise ground transportation.
Another perk of using DCL transfers is that they handle your luggage for you if you book your pre-cruise hotel stay through Disney Cruise Line.
Both in Orlando and in Miami, you can leave your bags inside your hotel room on embarkation day. Your bags will be placed on the Disney Cruise Line bus and taken to the port for you.
How much is Disney Cruise Line transportation?
The cost for Disney Cruise Line ground transportation differs depending on the city where you embark.
It is super easy to add the transfers to your reservation, and DCL will just charge your Disney cruise account.
If you booked the Disney cruise yourself, you just call Disney Cruise Line to add ground transfers to your reservation.
If you booked your cruise through a travel agent, your agent would need to contact Disney Cruise Line to add transfers for you.
Children under age three are free. So, you don't need to include your infant or toddler when budgeting for your transportation costs.
If you are sailing out of a city other than Port Canaveral or Miami, this list shows prices for all departure ports.
Cost
The cost of the Disney Cruise Line ground transportation depends on the port from which your cruise is departing and arriving.
For example, Disney's Port Canaveral shuttle service from the Orlando Florida airport costs roughly $39 per person each way.
The drive from the Orlando airport to the Disney ship at Cape Canaveral cruise terminal is typically just shy of an hour drive.
The cost of the DCL bus and private transportation in Miami works a bit differently.
On our most recent cruise from Miami, we chose to have Disney Cruise Line pick us up from the airport and drive us to our hotel, the Four Seasons Miami. (We booked this hotel through Disney when we reserved our ground transportation.)
In addition, we opted to hire Disney cruise transfers to pick us up from the Four Seasons Hotel on morning of the cruise.
This shuttle bus then transported us from the Four Seasons Hotel to the Port of Miami.
Finally, we also scheduled the Disney Cruise Line ground transfers AFTER our cruise to take us back to Miami International Airport from the Miami cruise port.
Each leg of these Miami transfers cost us $21 per person. In other words, the total cost for us per person to use Disney transfers in Miami was $63:
$21 from Miami airport to Four Seasons hotel
$21 from Four Seasons to Port of Miami
$21 from Port of Miami to Miami International Airport
You do not have to book all three transfer options though. If you only need a ride to the airport after the cruise, that's completely doable!
Airport Transfers in Port Canaveral
If you are cruising out of Port Canaveral, you can board the Disney Cruise transfer right at the Orlando International Airport.
This is especially easy if you stay at the Hyatt inside the Orlando airport as you can simply walk down to the DCL shuttle area the morning of your cruise.
Once at the Disney Cruise Line ground transportation station, you can stand in line to check-in and board the Disney Cruise bus to Port Canaveral.
At the end of your cruise vacation, you board the Disney bus at the Port Canaveral Terminal, and it drops you off in the same Disney shuttle area at the Orlando airport.
This process is a bit different if you're cruising out of Miami.
Miami DCL Transfers
On our last cruise out of Miami, we had a choice of two different Disney recommended hotels.
EB Hotel – Guests utilize the hotel shuttle from the airport to the hotel. The morning of the cruise, guests take the hotel shuttle back to the airport where they can board the Disney Cruise bus.
Four Seasons Hotel – Guests are picked up at the airport by a private driver and taken to the hotel. The morning of the cruise, guests are picked up by the Disney bus at the Four Seasons Hotel.
Since, my family and I opted to stay at the Four Seasons, I will detail the transfer experience below:
Prior to leaving for our trip, we received instructions stating that we should grab our bags from baggage claim after landing at Miami International Airport.
After picking up our bags, the instructions said to look for a Disney Cruise Line representative near the baggage claim area. Luckily, this turned out to be a super simple process.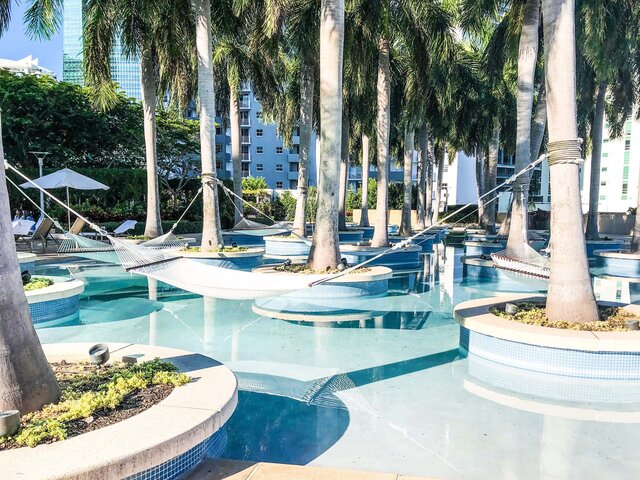 Right after our plane landed, I realized I had a text message from our driver. His message stated that he would be standing at our luggage carousel waiting for us.
He also included a photo of himself, so we knew who to look for.
We walked over to the baggage claim area and immediately saw our driver holding a sign with our last name on it.
The driver helped my husband grab our suitcases off the baggage claim belt and then escorted us to the vehicle.
He was driving a large Lincoln Navigator, and he had two car seats for my kids. He also provided cold water bottles for us on our drive to the hotel.
Our driver took us to the Four Seasons Hotel, which was about a fifteen-minute drive from the Miami airport.
Embarkation Day in Miami
When checking into the Four Seasons, you are typically given a letter about their Disney cruise shuttle service for the following day.
For some reason, Disney didn't have a representative at the hotel to give us this information on the afternoon we arrived.
Because of this, we weren't really sure what time our bags needed to be ready or what time the bus would pick us up the next morning.
My husband ended up going down to the lobby of the hotel in the morning to find a DCL transfer representative.
She informed us that our bags needed to be ready for bell services to pick them up by 9:30. We were then supposed to meet on the main floor of the hotel at 11:00 to board the Disney Cruise Line bus.
We attached our luggage tags to our bags and set them inside our hotel room door. I also included a few dollar bills as a tip for the bellman.
The bellman, who was a huge help during our entire stay, arrived right at 9:30 to grab our bags.
I told him I was really nervous about our luggage NOT making it to the ship.
Since our Disney ground transportation information had been pretty unorganized, I was afraid our bags would get lost.
The bellman assured me that he would take our bags down to the lobby and personally place them on the shuttle once it arrived. This made me feel so much better!
For some reason, I had thought that our bags would be on a different vehicle. Knowing they would be on the motor coach with us helped give me peace of mind!
Disney Cruise Terminal Miami
We were scheduled to leave for the port at 11:15, but we ended up boarding the bus and leaving around 11:00.
There was only one other family taking the transfer shuttle with us, so we had a giant bus basically to ourselves.
The drive from the hotel to the Port of Miami took about 15 minutes as traffic in Miami was crazy!
Christmas music played in the background on the bus during our ride to port, which really set the mood for our upcoming MerryTime Cruise.
**TIP- Sit on the left side of the bus to get a better view of the ship as you get closer to port. This is also true for Port Canaveral!
The bus pulled up right beside the main door to the Miami terminal. We thanked and tipped our driver as we exited the bus.
He unloaded our luggage and put our bags on the sidewalk at the port.
A porter was standing near our bags, and he told us he would take care of them. We tipped him a few dollars for this as well.
**Insider Tip- Make sure you add $1 bills to your packing list. I brought a lot with us for tipping, but I seemed to need even more than I had planned.
Ground Transportation after Cruise
After we disembarked the cruise ship and passed through U.S. customs, we exited the Miami cruise terminal.
There were several employees directing passengers on exactly where to go.
Disney had at least five shuttle buses lined up to take guests back to Miami International Airport.
We gave our luggage to the driver to place on the bus, and then we found our seats. The ride to the airport took about 20 minutes.
It was pouring rain, so the weather may have caused our commute to take longer than it normally would have.
The motor coach driver dropped us off at the airport. We headed to the Delta desk to check our luggage.
It was quite a hike from where we were dropped off to our check-in desk, so be prepared for that!
Final Thoughts on Disney Cruise Transfers
Overall, we tend to have great experiences with Disney Cruise Line ground transfers.
Since car seats are in our foreseeable future, I expect to continue to utilize the DCL buses for the ease of travel.
You just can't beat the peace of mind you get when Disney is in charge of your family's transportation.
We have used the Disney Cruise ground transportation in both Port Canaveral and Miami, and we have always been very pleased with our experiences.
Have you used Disney Cruise ground transportation?
Comment below to let me know if your experience was similar to ours!