Disney Cruise Online Check In Process Explained
Are you looking for tips and information on navigating the Disney cruise check in process? The Disney Cruise Line Navigator App really comes in handy while sailing, but it also simplifies the registration and planning process before your trip even begins!
In addition to displaying the really exciting cruise countdown, the DCL Navigator App allows you to view the details of your reservation and book activities for your upcoming Disney cruise.
In this post, I will walk you through the Disney Cruise Line online check in process using the features of the Navigator App. We will discuss what time online check in begins, and I'll give you tips on how to secure an early port arrival time along with coveted reservations.
So, continue reading below to find out all the tips and hacks you need to know for the Disney Cruise Line online check in process!
(This post may contain affiliate links. If you make a purchase through one of these links, I may receive a small compensation at no extra cost to you. Please see my disclosure policy at the bottom of this page for more details.)
Disney Cruise Countdown
Once you download the Disney Cruise Line Navigator App, you will be prompted to login to your DCL account. This is where you can create an account or type in your current login information.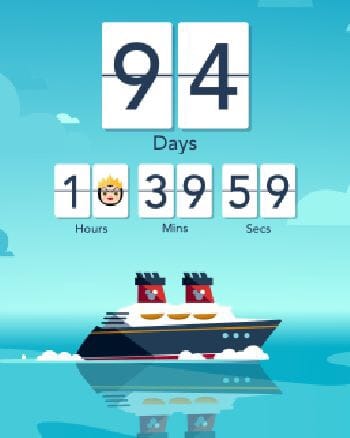 The screen should then display the reservation for your upcoming cruise. After clicking on your reservation, you will see a countdown calculator similar to the one pictured above.
This countdown is a super exciting reminder of how many days you have until your cruise. It's also a really important feature since some important deadlines occur before your cruise embarkation day.
When can you check in?
While on the Disney Cruise Navigator App, you can scroll down below your stateroom information to find the important steps you need to take for planning your Disney cruise. We will go through each of these My Reservations sections below:
My Reservations
In the spot labeled Cruise Essentials, you will find important things like your Disney Cruise Line balance and your reservation information. You will also see the online check in button in this section.
Are you trying to narrow down your cruise options? Check out Disney Cruise Line itineraries and pricing here. Plus, get access to price trends!
If you are a first time cruiser with Disney Cruise Line, you may check in 30 days prior to your sail date as long as you've made your final payment. If you have previously sailed with Disney Cruise Line, the check in days for each Castaway Club level are as follows:
Silver Members – 33 Days before Sailing
Gold Members – 35 Days before Sailing
Platinum Members – 38 Days before Sailing
Pearl Members – 40 Days before Sailing
What time does Disney cruise online check in start?
Once you arrive at the 30-day mark before your scheduled cruise (or sooner depending on Castaway Club level), you may be wondering what time you can actually complete online check-in for your Disney Cruise Line vacation. Online check-in should open at midnight EST (12:00 am Eastern Standard Time).
What do you need for online check in?
When you are ready to fully complete the Disney cruise check in process, you'll need to have several items on hand. Below, I will list each of these so that you are prepared once your online check in window opens up.
Passports
First, you will need to have your official identification documents handy. We highly recommend cruising with a passport even if it is not necessarily mandated for your itinerary.
Even though many cruises sailing from the United States and back allow U.S. citizens to travel with a birth certificate instead, you will need a passport in the rare (but possible) event you have a medical emergency overseas.
To view a full list of the travel documents required for your sailing, you can check out the DCL website here. During the Disney cruise online check in process, you will need to submit a photo of each passport/birth certificate. Each image should be free from glares and clearly show the information.
Credit Card
You'll need to assign a credit card to your Disney Cruise Line account. This is the card that you will use onboard when charging things through your Key to the World Card or DisneyBand+. If you need to change the card once onboard, you can visit Guest Services for help.
Flight and Hotel Information
Disney Cruise Line will request that you fill in your pre and post cruise travel information. So, you will want to have your reservation info. for flights and hotels handy to type in.
Photo of Each Passenger
Disney Cruise Line used to take photos of cruisers at the port during your cruise terminal check in process. However, you now need to upload a photo of each person in your travel party. These selfie style photos need to clearly show each passenger's face above the shoulders in a similar style to a passport or driver's license photo. (Although, they should not be the same photo that is on your ID.)
Disney Cruise Check in Process
When you are ready to fully complete the Disney cruise check in process, you'll want to set aside close to an hour (if it's your first cruise) to give yourself enough time to cover all the parts. I will go over each section of the tedious online check-in process below.
Once your window opens up for checking in, your Navigator App screen will include different sections like Guest Information, Onboard Account, Travel Plans, Port Arrival Time, etc.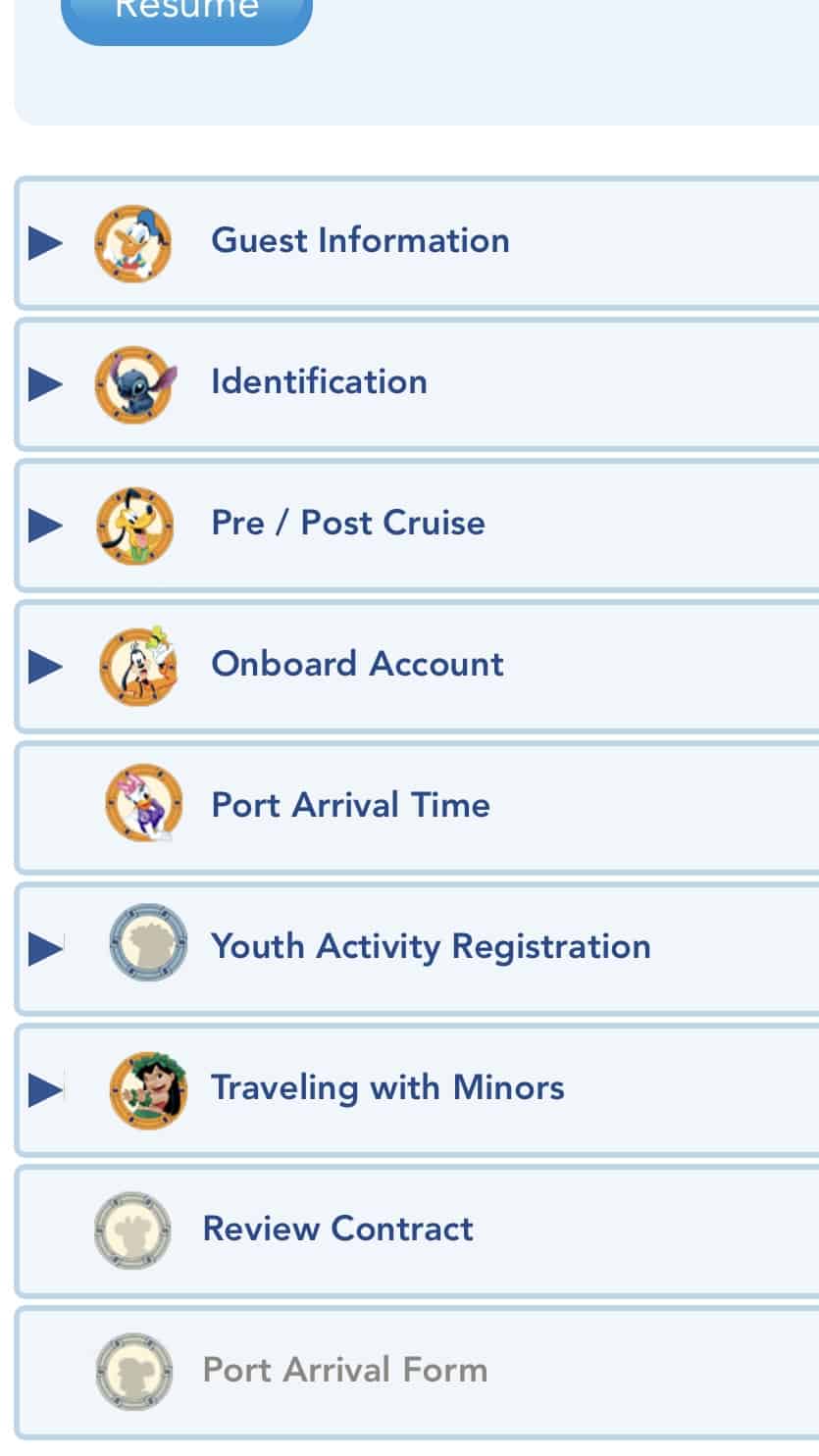 You will need to go through each of the tabs to fill out the relevant information. While this can be a time consuming process; once you complete it, Disney saves your information for your next cruise.
I will explain each section in more detail below:
Guest Information
This is the section where you fill in your personal information and your passport/identification info. If you have previously sailed with Disney Cruise Line, this should already be completed for you. If your contact information or your passport information has changed from what is shown on your account, you will need to update it.
Guests also need to upload a security photo (personal selfie) for each individual in your travel party. In addition, Disney Cruise Line requires guests to upload photos of their citizenship documents (birth certificate, passport, etc.).
Onboard Account
You will need to add a credit card to the Onboard Account section. While on the cruise, DCL charges gratuities and anything extra you choose to purchase to your online account. In this section, you can also choose whether or not to grant charging privileges to your family members.
Since my kids were 6 and 1 during our last sailing, they were not allowed to charge anything to the onboard account. If you have older kids, you can change this option to meet your needs.
Travel Plans
The Travel Plans tab asks for very specific information about your pre/post cruise plans. This includes the name of your hotel, flight information, etc. You can fill this out to the best of your ability during the check-in process. If you don't yet have all of this information, you can always go back later and correct it.
Port Arrival Time (PAT)
Next, you will choose your Port Arrival Time. Once you click on this tab, you will see a list of times available for you to ARRIVE at the port. This is NOT the time that you will board the ship.
For example, if you select a Port Arrival Time of 10:30, that means you plan to show up at the cruise terminal at 10:30. It has been my experience that boarding does not typically begin until at least 11:30, so you shouldn't expect to be on the ship immediately after arriving for your 10:30 PAT.
It's also important to note that if you purchased Disney Cruise Line ground transportation AND a pre cruise hotel stay through DCL, you will not be prompted to choose an arrival time. Instead, you will be permitted to enter the cruise terminal once the DCL transfer shuttle drops you off at the port.
Cruise Contract and Port Arrival Form
Once you have completed online check in for your Disney cruise, you will be prompted to review the cruise contract. Then, your last step is to print the Port Arrival Form in the bottom tab. You will need this form on embarkation day when you arrive at the cruise terminal.
Note that you can save the Port Arrival Form QR Code to scan on your phone at the port. However, we like to also have a printed copy of the form and prefer to print it as well.
The Port Arrival Form now shows your Muster Station and Boarding Number. (In the past, you did not get this information until you received your Key to the World card in the terminal.)
Kids Clubs
After choosing your PAT, you can register your child for the kids club appropriate for his/her age. You may also note special needs or dietary restrictions for your child in this section. Additionally, you will need to choose who your child is permitted to disembark the cruise ship with.
Children are not allowed to get off the ship without an adult. However, there may be an adult in a different stateroom with whom your child is permitted to debark. For example, you can choose to allow your child to get off the ship with a grandparent staying in a different stateroom. You may choose to allow this at EVERY port, at just Castaway Cay, or not at all.
More App Features
In addition to the check in process for Disney Cruise Line that we discussed above, the Navigator App is a great resource for additional trip information and tasks.
Cruise Options
In this section of your account, you will see some of the options that were available for you to choose during your Disney cruise booking. This includes your dinner seating time, trip insurance, Disney cruise ground transfers, and special requests.
Note that if you are not happy with your dining time, you can call Disney Cruise Line to ask the cast members to move you to a different seating. If you booked through a travel agent, the agent will need to call to do this. Additionally, you can regularly check the app to see if a more desired seating opens up.
Finally, you can often switch seating times onboard the ship by meeting with crew members in the dining room during the specified changing time. You can find more information in my post: Disney Cruise Dining Rotation Explained.
Itinerary
The next section of your Navigator App displays the itinerary for the cruise you booked. This is where you will see your cruise broken down by day. Some of the important events available onboard will be listed here.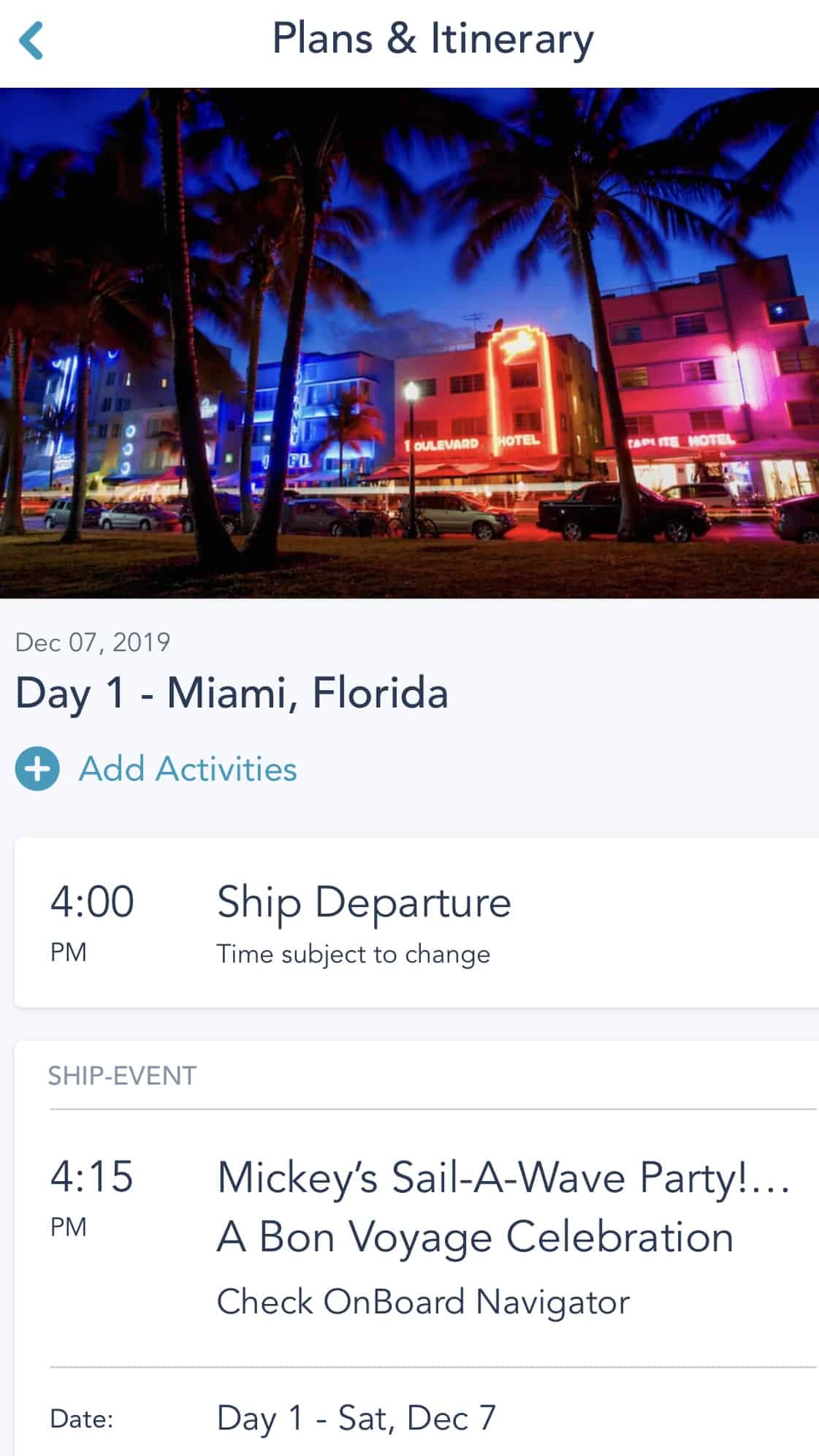 Once you book your activities, you will see them listed in this section as well. You can also click on the Add Activities button on your itinerary to add certain items to your plans.
Disney Cruise Onboard Activities Booking
If you are a first-time cruiser with Disney Cruise Line, you can book some of your cruise activities 75 days before sailing. Under your cruise itinerary on the Navigator App, you will see a section that looks like this: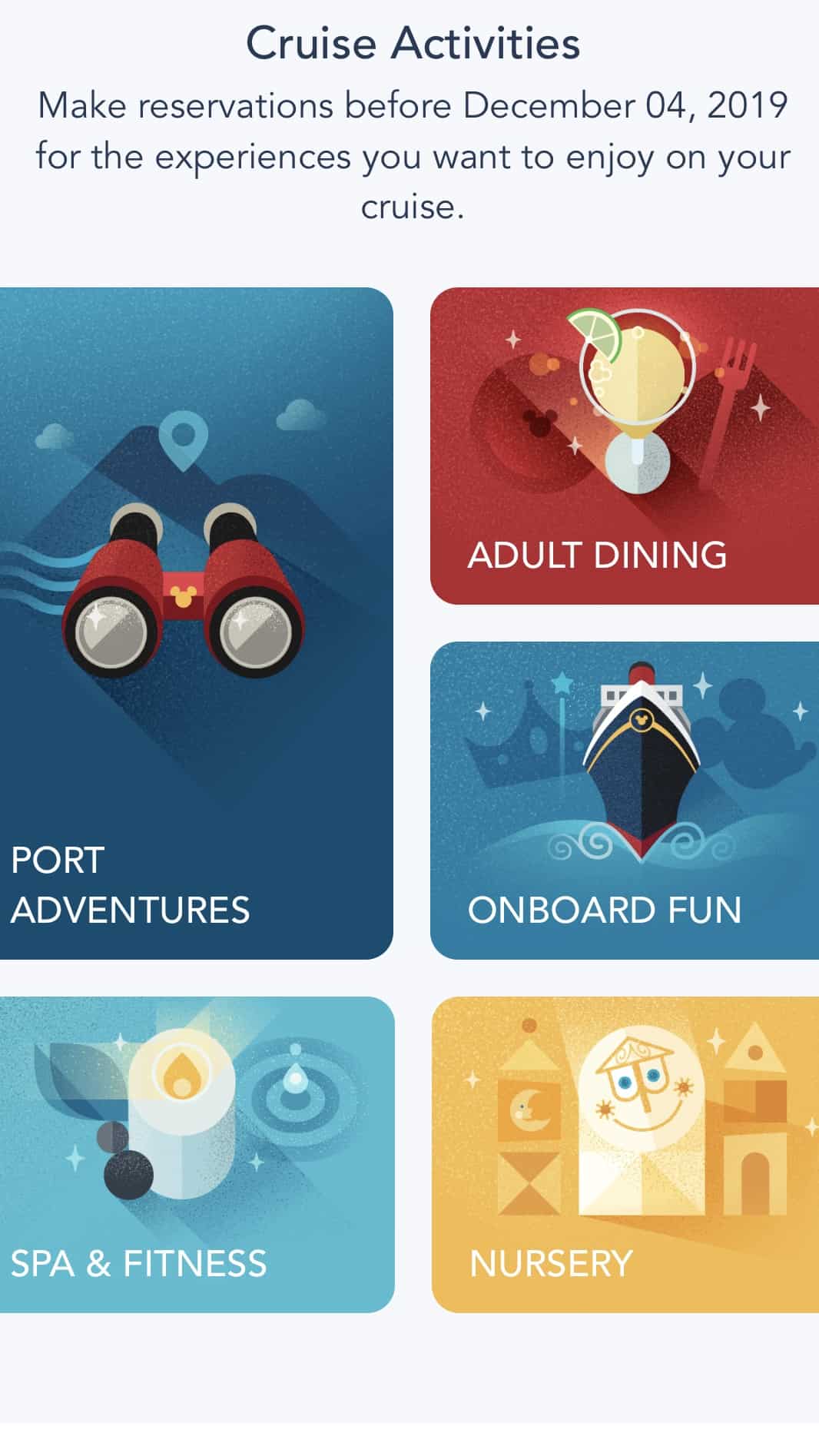 You can click on each of the categories listed to book cruise activities offered. I will walk you through each of these below.
Disney Port Adventures
When you click on the section for port adventures (aka shore excursions), you will again see your cruise itinerary. Here, you can click on the ports you are scheduled to visit on your cruise. The app then takes you to a page that lists all of the available Disney port adventures at that location.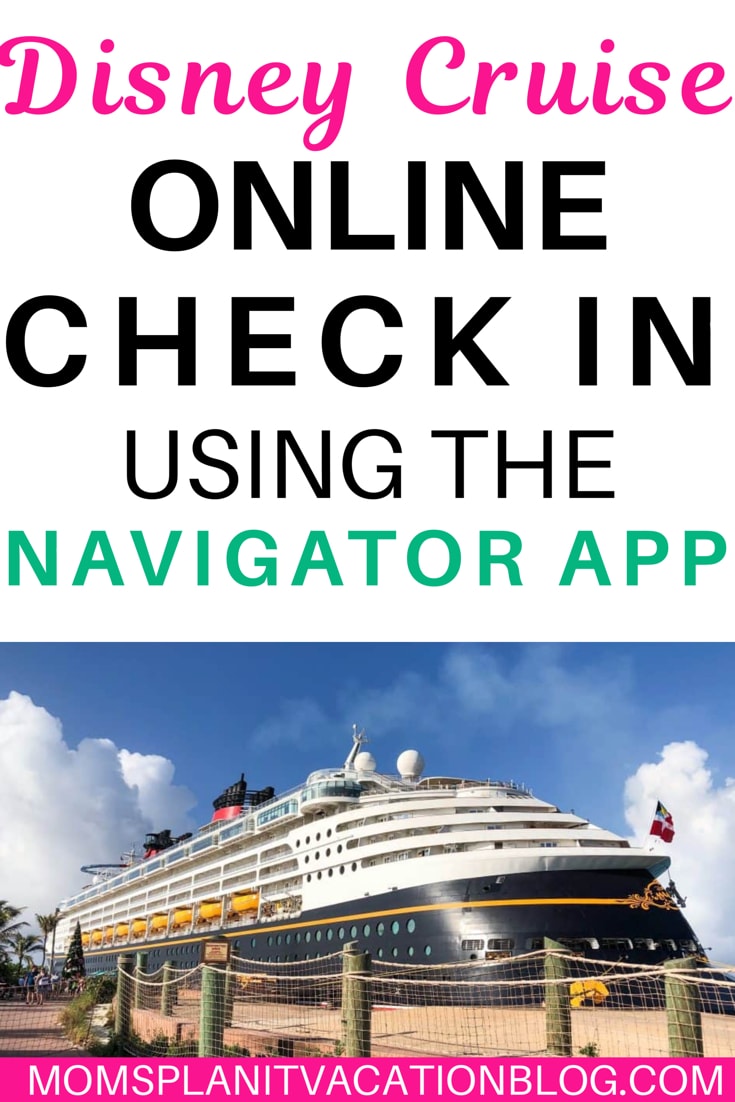 For example, if your cruise is visiting Castaway Cay, you will see excursions like bicycle rentals, parasailing, fly fishing, etc. After clicking on the port adventure that you want, you will be able to choose the family members that want to take part in that excursion.
Most of the options for port adventures have age restrictions. If you are cruising with a toddler, your available excursions will be narrowed down quite a bit.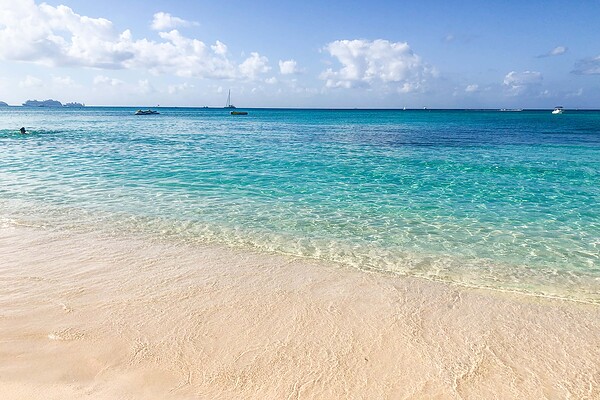 The age restrictions are prominently displayed, and you won't be able to click on the name of any family member not meeting the requirements. Next, you will see the available times for the excursion that you want to select. Choose the time that works best for you, and you're finished!
Disney Spa & Fitness
When you click on the Spa & Fitness tab, you will be directed to your cruise itinerary. You can then select the day that you would like to book a fitness and spa appointments. Disney Cruise Line offers many activities in this section including facials, massages, manicures, personal training, etc.
Just like the section above, you can choose the activity and time that works best for you!It's important to note that these appointments come with an additional cost and are not included with your cruise fare.
Onboard Fun
Under Onboard Fun in the Disney Cruise Ling Navigator App, you will find activities like wine tasting, Royal Tea, and Bibbidi Bobbidi Boutique.
The princess meet and greet and the Frozen Gathering are also located in this section. These two events are free on your Disney cruise, but you must book a time to attend the character meet and greets because they are so popular.
After clicking on the activity, it's super simple to choose a day and available time to attend the event. It will then show up in the itinerary section of the app.
When you get on the ship, you just show up at the meet and greet during your scheduled time slot. The cast member at the character meet should have your name on the list.
Adult Dining and Nursery Times
These two sections work the same way as the above activities. Here, you can select the date that is appealing to you. You will then be directed to choose a time for your specified activity, but you should note that you do not pay ahead of time. So, once you book your appointment, it should show up on your itinerary without any further steps.
Final Thoughts on the Disney Cruise Online Check-In Process
The Disney Cruise Line Navigator App and the Disney Cruise Line website are really helpful tools to use for online check-in. Whether your travel plans include leaving from Port Canaveral, Miami, or another cruise port, the Disney cruise online check in system works the same.
The only difference you may find is that port arrival times can vary depending on the port you are sailing from. We highly suggest downloading the Disney Cruise Line Navigator App prior to online check in since it allows you to easily access your reservation and book cruise activities. 
Once you are on the cruise ship, the Navigator App has even more helpful features, including texting! Once you complete each section in the app as described above, you should see a message that your checkin is pending.
Disney Cruise Line will review the information you entered along with your uploaded documents before confirming that your checkin is complete. You will then be ready to set sail to enjoy your cruise vacation.
We hope you have a magical time onboard the cruise ship and at your ports of call!
Do you have any tips for navigating Disney cruise online check in?
Comment below and share!