How to Get a Disney Cruise Upgrade at Port
Are you looking for a trick on how to get Disney cruise upgrades at port?
Maybe you want to try sailing in the Concierge Level, but you don't want to pay the full price.
Sometimes you can really luck out at the port by scoring a Disney cruise upgrade for your trip.
In this post, I will walk you through the steps of upgrading at the port to get a super nice stateroom for a really great discount!
(This post may contain affiliate links. If you make a purchase through one of these links, I may receive a small compensation at no extra cost to you. Please see my disclosure policy at the bottom of this page for more details.)
Disney Cruise Rooms
First, you should always book a stateroom that is comfortable for your family. For example, don't book a stateroom on Deck 1 if you don't want to be on a lower level.
You will be kicking yourself once you get to the port, and you find that upgrades aren't available. Then you will be stuck with a Deck 1 room that you never wanted in the first place.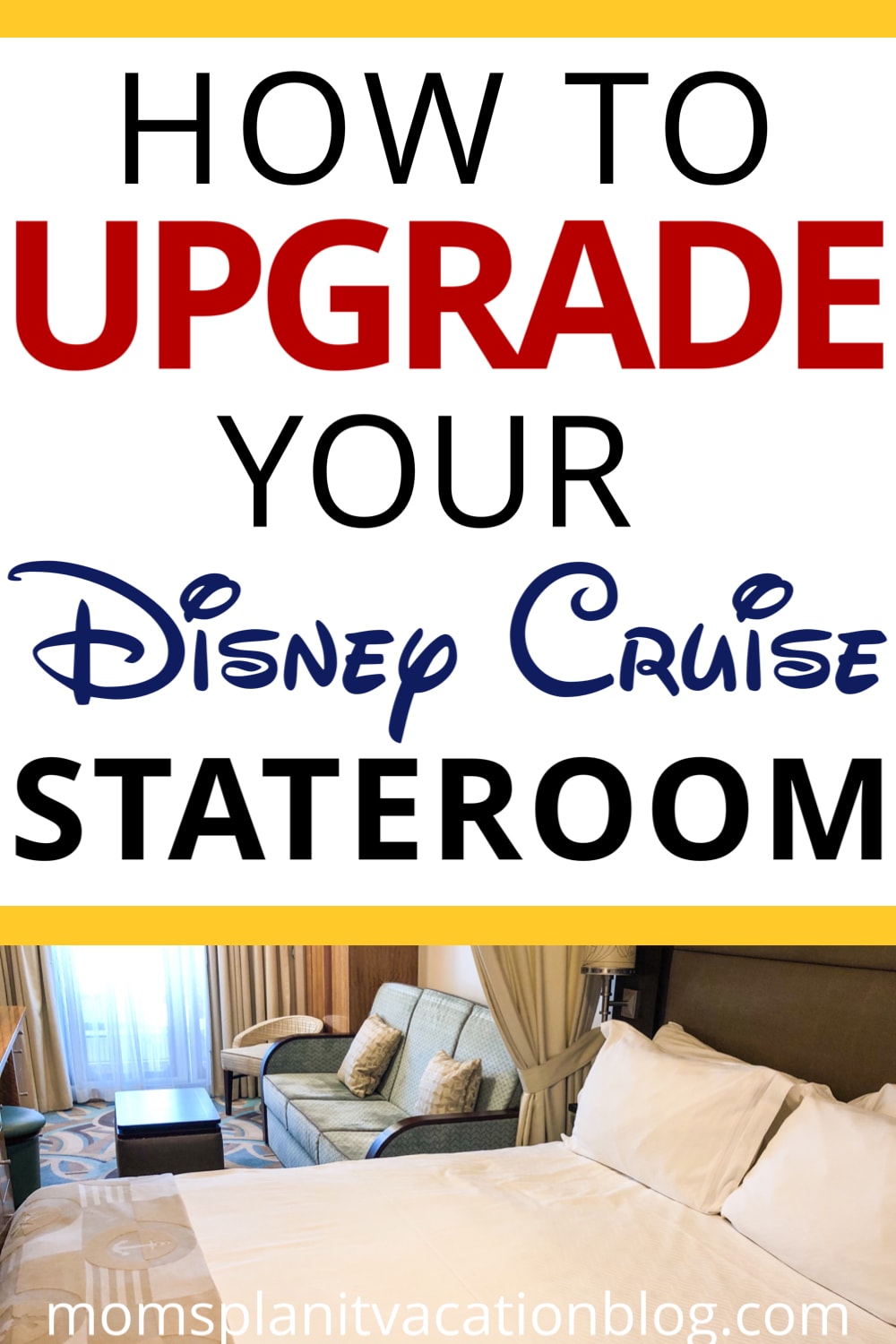 This brings me to a very important point- Disney Cruise Line does NOT always have upgrades available at the port.
So, when booking your Disney cruise, choose a room that you KNOW your whole family will like because you are not guaranteed to find any last minute deals.
I recently returned from a cruise on the Disney Magic where my family upgraded to Concierge at the port. On this cruise, I sailed with my husband and our two daughters (who were 6 and 18 months old).
Disney Cruise Upgrades
We initially booked a Deluxe Inside Stateroom on Deck 2 for this trip. When pricing out our stateroom options, I chose not to book a room with a verandah because the price was significantly more.
Obviously pricing is subjective based on circumstances, but it was over a thousand dollars more for a balcony. We decided it wasn't worth it for this trip.
Disney Cruise Line had rooms with portholes available for a few hundred dollars more than our inside stateroom.
However, these cabins didn't offer any additional space in the room. So, we decided to just stick with our Deluxe Inside Stateroom.
At least, that was the plan until we traveled with our toddler a few weeks prior to our trip. Our younger daughter, who isn't the greatest sleeper at home, was even worse on our trip.
She woke up at random times throughout the night and was also up at the crack of dawn each day. Right before our cruise, my husband and I decided that a stateroom with a verandah would be super useful!
This way, our toddler could sit and play on the balcony (with an adult of course) at 5 AM rather than waking up our six year old.
However, because we still weren't sold on spending an extra thousand dollars for a verandah, my husband and I reluctantly chose to just keep our Inside Stateroom.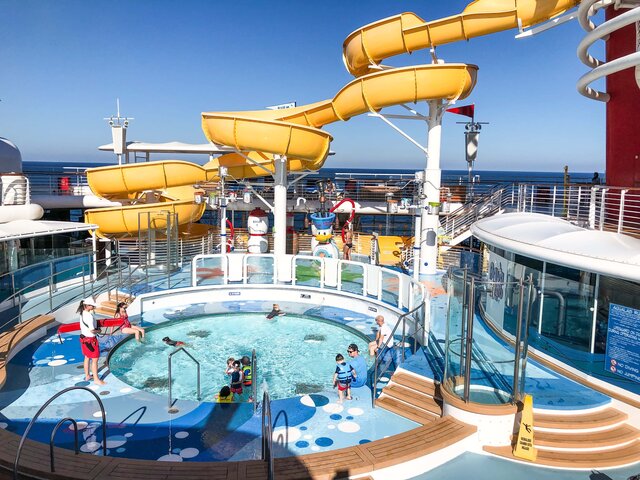 Instead, I kept an eye on the Disney Cruise Line website leading up to our cruise and continued to see a lot of rooms with balconies available.
Many times, Disney cruises sell out, but this wasn't the case with our off-season trip on the Magic.
Still, we didn't want to get our hopes up that we would be able to upgrade our room at the port.
Can You Ask for an Upgrade on a Cruise Ship
The first day of your cruise is known as embarkation day. This is the day when you arrive at the cruise terminal, check in, and board the ship.
On embarkation day, a Disney Cruise Line employee will check you in at a counter in the terminal. This process is very similar to the one at the airport.
Are you trying to narrow down your cruise options? Check out Disney Cruise Line itineraries and pricing here. Plus, get access to price trends!
It is at this check in counter where I inquired about a room upgrade. Once the cast member finished checking in my family and giving us our Key Cards, I asked if there were any upgrades available.
To my delight (and relief), she responded that they did have some upgrades available. She walked my family over to the supervisor's counter. This counter was located right beside the Concierge check in counter.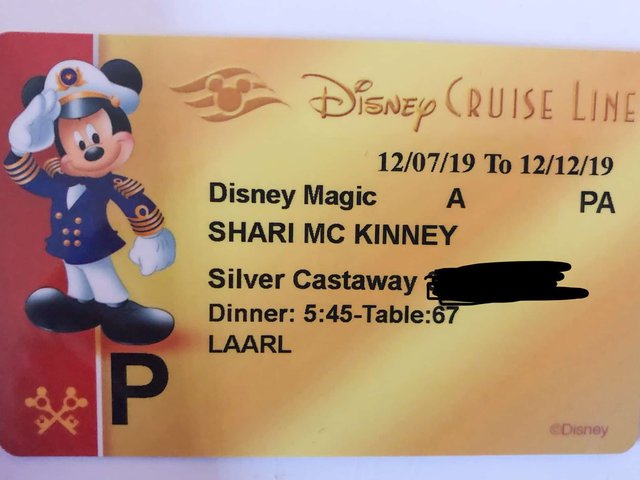 The supervisor informed us that she had a Concierge Stateroom available. This room included a verandah, which is what we REALLY wanted.
Since the stateroom was classified as Concierge, it also came with a price that was more than we really wanted to spend.
Port Upgrade Chart
The supervisor used a price chart to show her what my family needed to pay to upgrade our room.
Since we had originally booked one of the cheapest rooms on the ship, we needed to pay a lot more to make up the difference for the Concierge price.
(If you already had a room with a verandah booked, the price difference probably wouldn't be that significant.)
Even though this Concierge room was priced quite a bit higher than what we had paid for our original room, it was HIGHLY discounted.
Since I had been watching the room prices for our cruise on the DCL website, I was aware of the normal price for these rooms. It would have cost more than $4000 to change to a Concierge room BEFORE our trip.
The price to upgrade at the port was less than half of that!
Still, we really just wanted a balcony in our room. We weren't totally sure we needed all of the perks that came with Concierge. We initially turned it down because we didn't want to spend the extra money.
But……after discussing it further, my husband and I agreed that we would probably never get the chance to cruise Concierge at more than 50% off again…So, we upgraded!
This way we got our balcony AND the experience of cruising Concierge!
Upgrade at Port
I wanted to make sure to mention a couple important things about upgrading your room at the port. Disney Cruise Line did a wonderful job of immediately updating our account with our new stateroom number.
In fact, the Concierge staff seemed to know all about us right after we switched to Concierge level. Our luggage, on the other hand, did not get the memo. Our luggage tags had our original stateroom number listed on them.
Because of this, they were delivered to the Inside Stateroom we had initially booked. This was easily fixed by our room host. Once I noticed luggage appearing in the hallway of other rooms, I mentioned our upgrade to our room host.
Within minutes, he was on the phone and had located our bags. They were then immediately brought to our room. In addition, our Castaway Club gift did not get put in our new stateroom. Instead, this backpack was waiting for us in our original room.
Again, this was quickly taken care of by Disney. I just wanted to mention that for those who may choose to do the room gifts or decorations. If you upgrade at the port, your room decorations may not immediately follow you there.
Final Thoughts on Disney Cruise Upgrades
I really don't like making huge decisions in the spur of the moment, especially when finances are involved. Because of this, I was worried we would end up regretting our decision to upgrade our room to Concierge at the port.
Luckily, we all ended up being really happy with our decision. The verandah was a huge help throughout our five day trip, and we used it a ton!
To learn about all the perks we enjoyed with Disney Cruise Line Concierge Level, you can check out this post: Disney Cruise Concierge Perks
Have you had the chance to upgrade your Disney Cruise at port?
If so, did you take it?! Comment below and let me know what you would do!