25 Best Disney Cruise Tips and Tricks (for First Time Cruisers)
I'm sure you know that planning a vacation can be a lot of work! But it can all be worth it for an unforgettable family trip.
Disney Cruise Line is the perfect option for families because the ships offer so much to see and do onboard.
Since you also get to visit amazing ports of call all around the world, Disney cruises are sure to please everyone in your family.
Before you leave to embark on your cruise, be sure to check out these Disney cruise tips and tricks for first time cruisers!
From the planning process to debarkation day, these tidbits of advice will help you map out the do's and don'ts of your Disney cruise vacation.
Read all about our favorite hacks for packing, dining, visiting Castaway Cay, and more!
(Some of the links in my posts are affiliate links. If you make a purchase through one of these links, I may receive a small compensation at no extra cost to you. As an Amazon affiliate, I earn from qualifying purchases.)
Planning Tips for First Time Cruisers
The planning process for a Disney Cruise Line vacation may seem a bit overwhelming. However, Disney really does a great job of organizing the information you need.
Below are my top tips for planning a Disney Cruise Line vacation.
Download the Navigator App
You should download the app right after you initially book your cruise. The Disney Cruise Line Navigator App has a countdown feature that is so much fun to see, and it really gets the family super excited for the upcoming trip!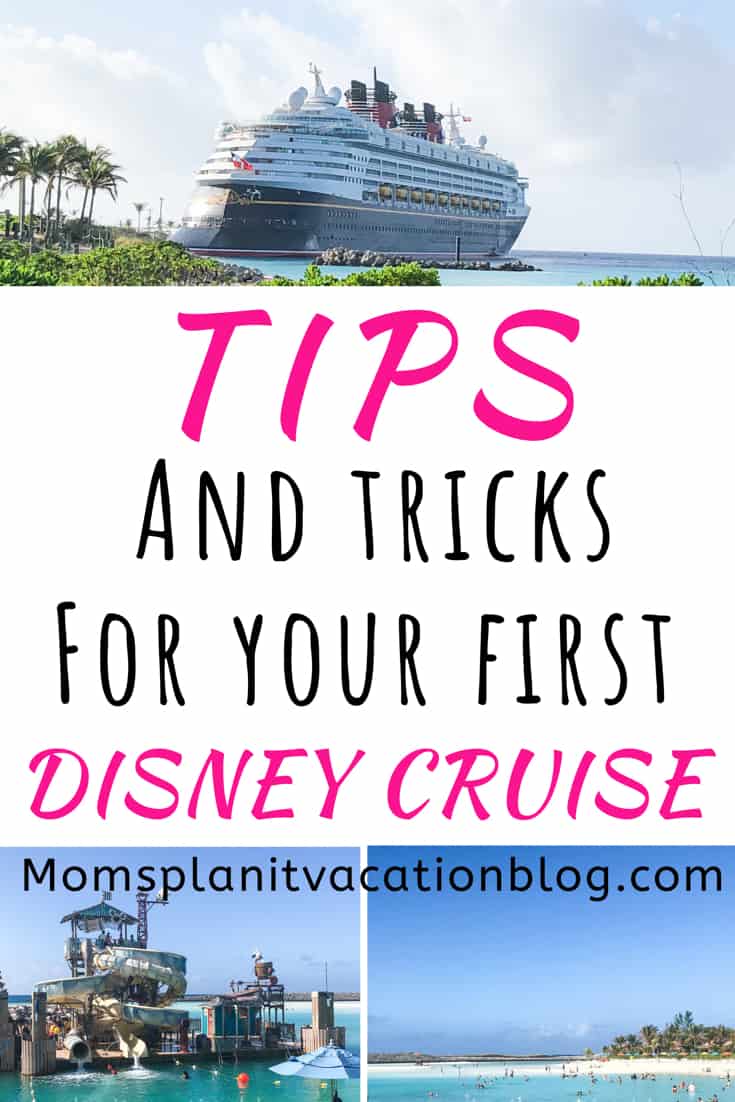 The Disney Cruise Line App also holds a ton of information about your trip. Once onboard, you will notice it contains everything you need to know about the ship in general. You can use the Navigator App for directions, schedules, reservations, etc.
It's also a great way to communicate (for free) with your family members while on the ship. You and your family can text each other via the Navigator App without having to worry about using up all the data on your phone.

Use DCL Ground Transportation
Disney Cruise Line ground transfers are a super reliable and easy way to arrive and leave the port. I highly recommend adding this shuttle service to your cruise reservation, especially if you are cruising with babies and toddlers.
(Note that your travel agent would need to add this on to your reservation if you booked through an agent.)
We like that the Disney shuttles take care of our luggage so that my husband and I aren't trying to keep up with two little kids, carryon bags, AND large suitcases. If you have a family of four, these Disney buses are really cost effective as well.
You can find out more information about the pricing and other details on the official website for Disney Cruise Line.
Get an Early Port Arrival Time
We like to arrive at the port and board the ship as early as possible. This allows you to enjoy lunch and the ship's pools before your room is ready.
This early Port Arrival Time is popular, so you will want to be diligent about choosing your time as soon as its available. This means you will want to login to your Disney account as soon as online check-in becomes available.
Then, you can make sure to snag the coveted early times before they book up. The trick to bypassing this is to use the cruise tip mentioned above.
If you choose to use the Disney Cruise Line ground transportation, you will NOT choose a Port Arrival Time. Instead, you will arrive at the port with the Disney cruise transfer. This is our go-to method for arriving at the port early when be book our cruise last minute.
Complete Online Check-in
First time cruisers with Disney Cruise Line may check-in online (typically) 75 days before cruising. Your online booking period usually opens at midnight (EST). As mentioned above, you will want to check-in as soon as possible if you are hoping to snag an early Port Arrival Time.
It is NOT a bad idea to either stay up late or wake up really early to book activities. This is especially true if you are wanting to get an early Port Arrival Time or needing to book activities like the Princess Gathering.
Our trick for completing online check-in as fast as possible is to enter nonsense answers when prompted. For example, when the check-in form asks for your personal information, just quickly make up a passport number, etc. to speed up the process.
The form will allow you to move to the next page as long as you filled out answers. We try to rush through the first few forms until we get to the Port Arrival Time section. Once you secure the time you want, you can go back to update the personal information so that it's correct.
Again- don't forget to go back and change your nonsense answers to your actual information! This allows you to quickly answer the identification information so that you can get to the part where you book events faster.
Fly in a Day Early
If you live somewhat close to your departure port, you may be tempted to fly in the morning of your cruise, but don't do it! The weather is so unpredictable, and I'm sure you don't want to feel stressed about missing the ship.
Flying in the day before you are scheduled to set sail allows you extra time to ensure you make it to your final destination…the Disney cruise ship! If you would like to read reviews and tips on where to stay the night before your cruise, you can check out these posts:
Best Tips for Embarkation Day
The day that you finally get to board the Disney cruise ship is known as Embarkation Day. This can be a hectic day since you will be juggling your cruise documents, luggage, transportation information, and more.
Our Embarkation Day post provides a packing list for your day bag as well as tips to help the day run smoothly for your family. Below are some additional tips for boarding on embarkation day:
Take a Pen
You will need to fill out the health questionnaire when you arrive at the port. You can save time by having a pen handy to fill out the form while you wait in line. If you forget to bring a pen, you will find plenty available at the counter. However, it saves time to fill this out while you are waiting.

Wear Swimsuits
I know you are probably wondering what to wear on your cruise. You will see ALL TYPES of clothing worn on the ship. No matter how formal or casual you choose to be, you won't be alone.
Most of the people I see on our cruises look casual and comfortable. This is especially true on embarkation day when a lot of kids are just wearing swimsuits and coverups. As a family, we tend to wear our swim gear under our clothes.
My husband and I also like to board the ship wearing flip flops or sandals that slip off and on easily. My kids like to spend time on the pool deck after our embarkation lunch, and I usually need to take off my shoes for the splash zone and pool area.

Ask to Upgrade
I want to preface this by saying to make sure you book a room that you are completely comfortable with FIRST. Then, you can ask the cast member who is checking you in if there are any room upgrades available.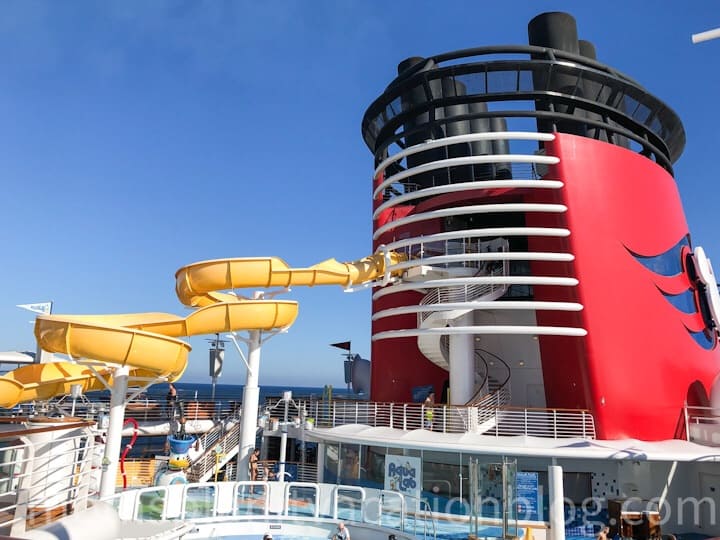 If Disney Cruise Line has available rooms, you can choose to upgrade for significantly less than what the room regularly costs. My family and I used this trick on our most recent cruise when we upgraded at the port to a concierge-level room.
This was a huge perk as concierge guests receive a lot of additional perks. Again, this is not guaranteed and it's not even common. So, make sure you have a room you love in case an upgrade isn't available.
Disney Cruise Stateroom Tips
As mentioned above, even if you are planning to inquire about a room upgrade at the port, you should initially book a stateroom that meets the needs of your family. These are some of my personal guidelines for booking a stateroom.
This list also includes some little knows facts about your cabin:
Stay Aft or Mid-Ship
If you have never cruised before, I recommend booking a stateroom in the middle or back of the ship. This may just be a personal preference for me, but I feel the motion of the ship much more at the front.
If you are concerned about seasickness, you may want to consider a room in an area other than the forward (front) end of the ship. We typically feel the movement a lot more when we are in a venue at the front of the ship compared to at the back (aft) or middle.
Pack Magnets
You have probably seen photos of decorations on the outside of stateroom doors. These items attach to the door with a magnet. Similarly, the walls and doors INSIDE the cabin are also magnetic.
One of my favorite packing hacks is to bring magnetic hooks with us on our cruises. These hooks come with 12 in a pack and are super reasonably priced.
You can stick them to the walls and doors in the stateroom to hold all kinds of things. We hang our wet swimsuits, hats, towels, etc. on these hooks. These are the really durable magnetic hooks we use! (Amazon Affiliate Link)
I also use the magnetic hooks on the bathroom door in our cabin. This is a great place to hold an over-the-door shoe organizer. You can store all kinds of things in the shoe organizer from hairbrushes to sunscreen to toiletries.
You can see the over-the-door shoe organizer we use with the hooks in the above photo.
Memorize Your Room Number
You will be asked for your room number often during your cruise vacation. For example, when you are in line to take pictures with characters, the photographer will need your stateroom number.
It's a good idea to memorize the room number early on so that you can quickly recite it when a crew member asks.

Disney Cruise Dining Tips and Tricks
The dining rooms on the Disney cruise ships provide really great food, service, and entertainment. The rotational dining method that DCL uses can seem confusing if you are a first time cruiser.
Below are some of our top tips for dining on your Disney Cruise Line vacation.
Get on the Waitlist
Depending on when you book your cruise, the main dinner seating may be full. If you would prefer your family eat at the main dining time (around 5:45) rather than at the second seating (around 8:15), call Disney Cruise Line and ask to be put on the waiting list.
Then, check your online Disney Cruise Line account often (like daily). Sometimes the early time opens up, and it will randomly become an option for you to choose in your account. (This happened for me on my last cruise at about 30 days before sailing.)
If you REALLY need the early dining time and it does not open up in the app, just check the schedule for dining requests on embarkation day. You will see a time and place to make dining requests onboard.
You just stand in line until you can meet with the cast member in charge to request early seating. Disney has always been able to meet our request on board; although, we tend to sail during the off-peak season.

Request a Private Table
If you would rather eat at a table with only your travel party and not with strangers, you can call Disney Cruise Line before your trip to ask for a private table. They will not guarantee this over the phone; instead, they will make a note of your request.
On embarkation day, you will receive a paper newsletter (called a Personal Navigator) that lists a meeting place and time for dining changes. You can go to this location at the specified time to confirm your request for a private table.
Specialty Drinks include Tips
If you order an adult beverage or a specialty kid's drink, a gratuity is automatically applied to the price. When you get your receipt, make sure you don't double tip…unless you just want to!

Best Tips for Castaway Cay
If you are lucky enough to visit Castaway Cay on your cruise, you won't be disappointed! Disney's private island in the Bahamas provides stunning beaches and lots of fun activities.
You will find some great tips for visiting Castaway Cay below. (Since I have a toddler, some of the tips are baby or toddler specific.)
Borrow a Stroller
If you don't want to bring a stroller from home for your young children, you can borrow one from Guest Services. They will charge your account $250 for the stroller, but DCL will remove the charge once the stroller is returned.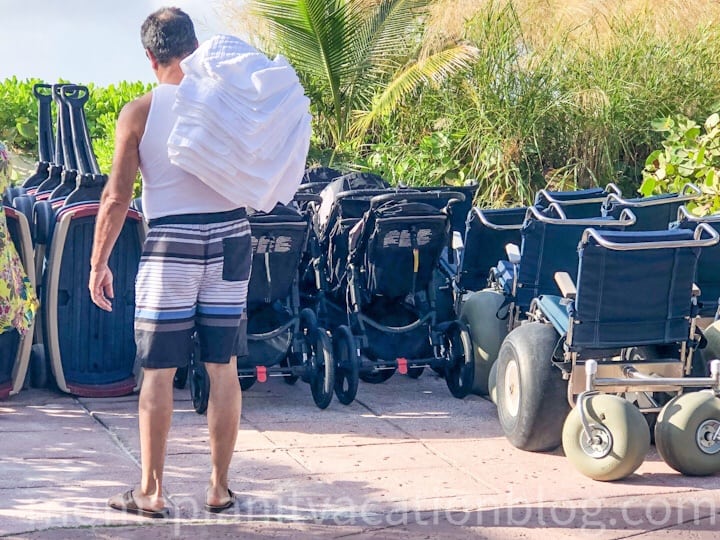 The ship strollers are City Mini Baby Joggers. We had to fold it up before fitting it through the stateroom door on the Disney Magic, but they are super easy to collapse.
The stroller can then be stored in your room, under the bed, or even in the closet. If you are cruising with a little one but don't want to borrow a stroller on the ship, you can grab any of the available strollers or wagons on Castaway Cay to use for free on the island.

Sit near the Climbing Feature
Castaway Cay has a climbing feature that's perfect for young kids just off the shore of one of the family beaches. The beach and water in front of this play zone often has far fewer people than other areas on the island.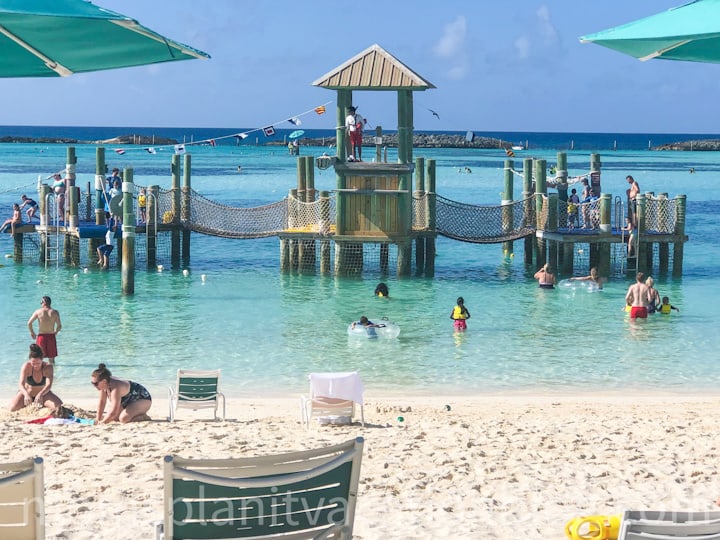 Even at prime beach time, you should be able to find loads of seats and umbrellas in this area. If your kids enjoy climbing, you can easily monitor them from the beach in this area.
Pack Water Shoes
The sand and water at Castaway Cay is often full of tiny (and sometimes sharp) shells. You can get by without water shoes IF you are careful.
However, you may want to add them to your beach bag for peace of mind and for your kids' feet.
Disney Cruise Packing Tips and Hacks
Below you will find some brief notes on packing tips and hacks for your cruise.
Bring $1 Bills
We often find that we need dollar bills for tipping various people throughout our trip. These are some of the positions we tipped on our last cruise:
motor coach driver who drove us to the port
porter who handled our bags at the port
$1 per item ordered from room service
motor coach driver who drove us to the airport
We also added cash to the gratuity envelopes for our room host and dining servers.
(You do not need to add additional tips to these envelopes unless you feel you received exemplary service. The regular tip amount is fine to leave.)
Embarkation Day Bag
Your room probably won't be ready until 1:30, and your luggage may not arrive until after dinner. So, pack a carryon bag for boarding the ship in case you need certain items before your luggage arrives.
Insider Tips for Shows
The Broadway style shows on Disney Cruise Line provide really great family entertainment that kids of all ages can enjoy. Here are a few tips for visiting the theater and enjoying onboard activities:
Arrive Early
The seats in the theater fill up during the nightly live shows. Try to arrive 15-20 minutes before the show starts to make sure you find seats with your family.

Grab a Booster Seat
I have a six year old who is really small for her age. My husband grabbed a booster seat for her to sit as we entered the theater each night. This allowed her to see the stage better from her seat.

Pack Snacks and Drinks
You can purchase popcorn, candy, and drinks right outside the theater at Preludes. However, you are welcome to bring your own snacks as well. This is a great way to save money and stay on budget for your cruise!

Last Minute Tips and Advice for First Time Cruisers
These are some miscellaneous bits of advice for your first time cruising with Disney Cruise Line.
Kids Club Band
If you receive a bracelet for the kids club (similar to a Magic Band at Disney World) for your child, make sure you return it to the club by the last day of your cruise.
If you don't, Disney Cruise Line will charge your account for the bracelet.

Grab a Paper Navigator
The Disney Cruise Line Navigator App is a great resource while on the cruise. However, I still prefer to have a paper copy of the daily personal navigator. You can easily pick up your Navigator at Guest Services each day.

You do not have to wait in line to do this. Guest Services should have a stack of Navigators set out for guests to freely grab and go.
Pack Early
If your final cruise day is at a port like Castaway Cay, it may be tempting to leave the packing until later so you can enjoy the beach.
However, if you want Disney Cruise Line to handle your luggage on debarkation day, it needs to be packed and in the hallway that last night.
Give yourself plenty of time to pack your bags and set them in the hall by the luggage pickup time. This will help the end of cruise and disembarkation day run much more smoothly.
Schedule a Character Call
Disney Cruise Line provides two FREE calls from characters prior to your cruise. Depending on when you are cruising, you can receive a call from Goofy, Mickey, or Minnie.
Final Thoughts on Disney Cruise Tips and Tricks
I hope you found these tips for your first Disney cruise really helpful! Sailing with Disney Cruise Line is the most fun and relaxing way to travel!
Enjoy your trip!
Do you have any tips for Disney cruise vacations?
Comment below if you have more tips to add to the list!