Best Hotel for Disney Cruise and Stay Miami
Are you looking for reviews of Disney cruise and stay packages in Miami, Florida?
If you are planning to cruise out of Port of Miami, you are probably wondering where to stay the night before your trip.
The Miami area provides so many different hotel options near the cruise port that it can feel a bit overwhelming when trying to find the best one.
If you are traveling with kids, you more than likely want a resort or a hotel that will meet the needs of little ones. So, what is the best hotel in Miami for families with kids?
Those families looking for a bit of luxury along with some amazing amenities for the whole family should check out the Four Seasons Hotel Miami.
If you're sailing out of Miami on a Disney cruise with kids, you will want a convenient hotel near the port. You're also likely looking for a hotel with kid-friendly restaurants and super fun pools.
My family and I stayed at the Four Seasons Hotel Miami the night before our Disney cruise on the Magic. The outstanding service and easy transportation options to the port really sold me on this hotel.
In this post, I will provide a full review of our pre-cruise stay at the Four Seasons Hotel Miami, including all the fantastic amenities it provided for our kids!
Disney Cruise Line Hotels in Miami
My family and I have cruised out of Port Canaveral on several occasions, and we find it super easy. We like to spend our pre-cruise night at the hotel inside the Orlando airport.
Not only is this hotel conveniently located for those flying into Orlando, but it's also a short walk to the Disney Cruise Line shuttle service to the port.
The morning of your cruise, you just board the Disney Cruise Line bus to head to Port Canaveral.
After booking a cruise out of Miami, I wanted to find a Disney cruise and stay option that was equally convenient as the one in Orlando.
Since we didn't want to spend our pre-cruise night staying at the hotel inside the Miami airport, I decided to research the Disney hotels in Miami.
During our trip, Disney Cruise Line offered the choice of two different hotels in the Miami area for pre-cruise stays. The first hotel option was located near the airport. However, it was going to require a lot of back and forth travel the morning of our cruise.
Since we wanted to see a bit of the city of Miami in the most convenient way, I ultimately decided to book the Four Seasons Hotel Miami through Disney Cruise Line.
Since I reserved our hotel room as part of our cruise package, Disney Cruise Line took care of the travel organization for us. This included the use of the Disney shuttle from the Four Seasons Hotel to the Port of Miami.
Four Seasons Hotel in Miami
My husband and I had never visited Miami, and we had quite frankly heard mixed reviews of the city. We ended up being pleasantly surprised by the downtown Miami area.
The Four Seasons Hotel is located in the financial district of downtown Miami on Brickell Avenue. The hotel and surrounding buildings all looked clean and modern.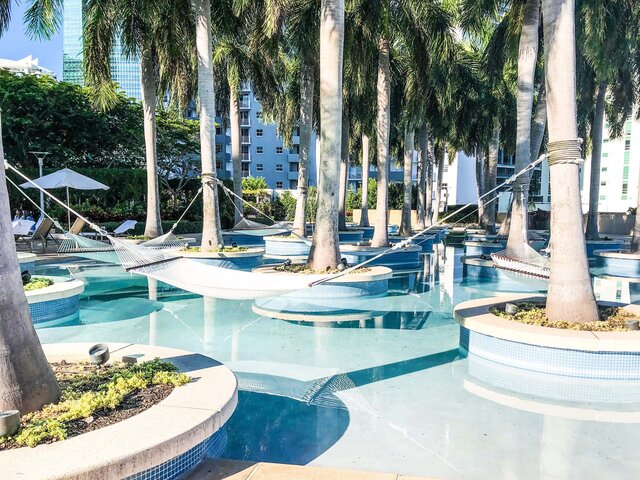 Locals and tourists walked and jogged right in front of the hotel, so it seemed to be in a safe area of the city. We passed a few grocery stores, pharmacies, and restaurants on our drive to the hotel.
The arena where the Miami Heat basketball team plays is also located near the Four Seasons Hotel. In fact, we saw several of the opposing team's players leaving the Four Seasons as we arrived. My husband was in heaven!

Miami Luxury Hotel for Families

I wish I could remember the name of the bellman who greeted us as we pulled up to the hotel because we liked him so much. We seemed to run into him a lot during our trip, and he was always so friendly and helpful.
Right as we arrived, this bellman grabbed our luggage and walked us into the ground floor entrance to the Four Seasons.

You have to take an elevator up to the seventh floor where the hotel lobby is located. This is also where you find the pool terrace.
The check-in process was super simple, and the Four Seasons had our room ready even though we had arrived before the official check in time.

Once we completed check-in, a Four Seasons employee wheeled over a wagon full of stuffed animals. She welcomed us to the hotel and told my two girls that they could each choose a plush toy to keep.

Then, she asked my husband and I if we would each like a glass of wine from a table in the lobby. Um, sure!! We then headed up to our room with wine and stuffed animals in hand.

Four Seasons Miami Hotel Room

The same friendly bellman brought our luggage to the room right after we arrived We changed into our swimsuits so we could enjoy the pools before the sun set.
I snapped some photos of the hotel room before we headed out. Below, you can see just how nice the Four Seasons Miami hotel rooms are for families.
Our specific room featured a king-sized bed and a small sitting area. (Since I added the hotel room to our cruise package kind of last minute, the rooms with two beds were sold out.)
This wasn't a big deal at all though. We just called housekeeping and asked for a rollaway bed. We are okay with fitting three of us in a king bed, but four people would be pushing it.

The room attendant who set up the cot told me that the Four Seasons also provides bed rails upon request. We decided not to use the rails; though. Instead, I just pushed the rollaway bed against the window seat pictured above.
I slept on the rollaway cot with my toddler. It was actually one of the most comfortable beds I have ever slept in! You can see the rollaway bed pushed up against the window seat in the picture below.

The desk in the room held some additional information about the hotel. It also contained a calendar of events for the month we were visiting.
I thought this was a really nice touch as it listed sporting events, concerts, festivals, etc. taking place in Miami during your stay. If you planned on staying in Miami for multiple nights, you could easily find activities based on the events in the pamphlet.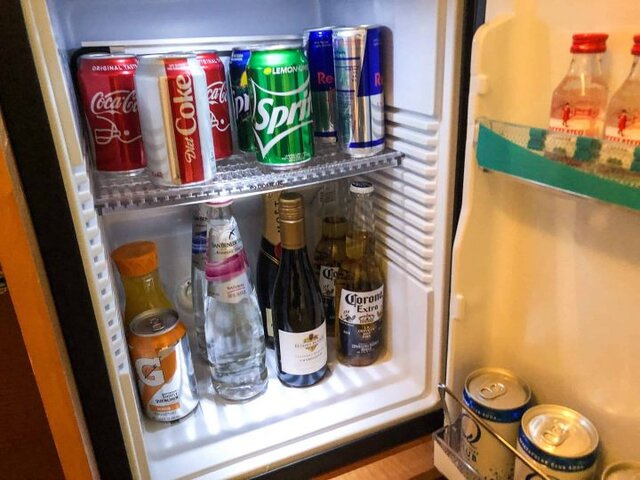 Although we didn't consume any of the beverages, the Four Seasons hotel rooms offer a mini bar with snacks and drinks for an additional cost.
You will also find a coffee/espresso machine in the room, which is free to use.

Overall, the room was the perfect size for the four of us, and the bathroom just blew us away! My six-year-old was highly impressed with the size and amenities in the bathroom.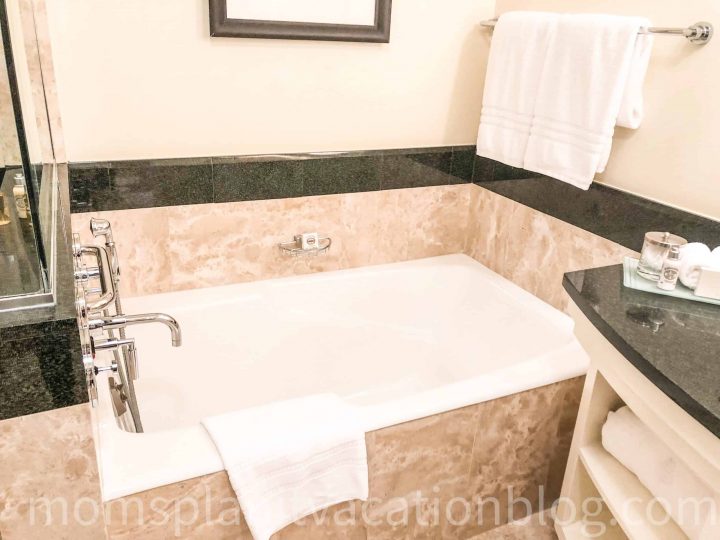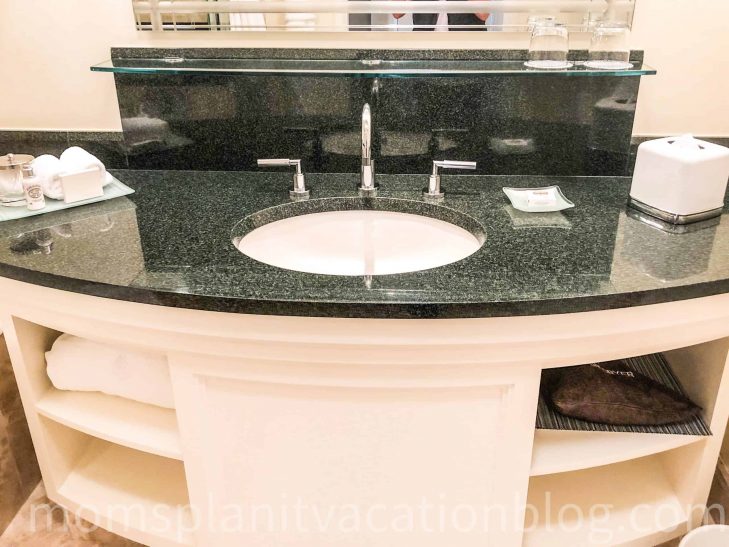 You can see from the photos above that the bathroom included a large shower, separate tub, vanity, and robes.
Miami Hotel with Kid Friendly Pools
Once we organized the hotel room with the rollaway bed, we headed outside to enjoy the multiple pools at the Four Seasons.
As you enter the pool terrace, you will see a stand with towels and refreshments. This is where you can pick up and return your pool towels. Ice water and sunscreen are also offered for guests to use for free.
Since we were visiting in the month of December, I was worried that the outside temperature would feel too cold to swim. However, the weather happened to be sunny with a high in the mid 80's during our December stay.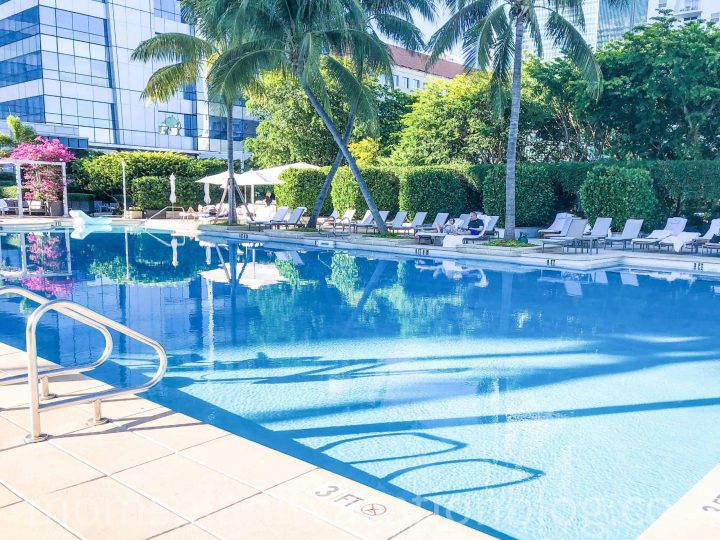 The main pool is the first pool you pass after the towel stand. This pool sees a lot of shade during the afternoon hours, so it didn't feel super warm to us. This is probably welcomed in the hot and humid summer months though.
You will see several cabanas next to this main pool, and they look really cute and cozy. I believe they were first come first serve during our visit.
Only one cabana was being used while we were there, so they had plenty of availability. Again, this may not be the case during hot summer months, though.

Once you walk past the main pool, you see the really shallow Palm Grove Pool. This amazingly beautiful swimming area features palm trees with hammocks.
Since this pool was in the sunshine and featured shallow water for our toddler, we almost put our belongings down here.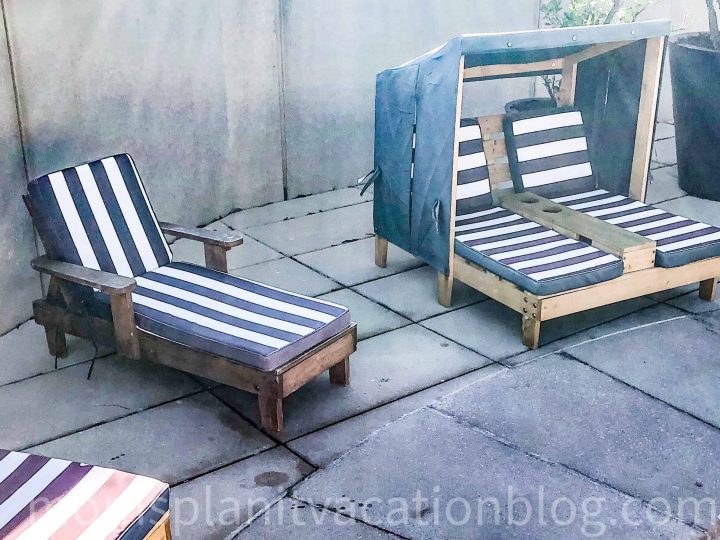 However, we quickly noticed the little kids' swimming area. This small outdoor section is in a gated area, and it held both toddler and adult sized loungers.

The kiddie pool play area also offered a giant Connect 4 game to play, which was really fun for our older daughter.

We claimed a spot by this kiddie pool because it was in the sun, and it allowed our toddler to have more freedom to roam around in an enclosed space.

Four Seasons Miami Restaurants

The Four Seasons has several restaurants on property, but my family and I chose to eat dinner at Bahia. This pool lounge was the perfect dining spot for us since we were still wearing swimsuits and coverups.

Bahia
Bahia wasn't busy at all, so we were able to easily grab a table. A server came out to take our orders immediately.

My husband has dietary restrictions, and the waiter was able to recommend some gluten free options for him to try. I had the tacos, and they were really good as well. I'm including a photo of the kids' menu below for those who are interested.

My toddler ordered the peanut butter and jelly sandwich, and it came grilled. I'm not going to lie; I think I ate half of it myself because it was just so good!
In Room Dining

The next day, we ordered room service for breakfast to help our morning with little ones run more smoothly.
The menu for In Room Dining is in your room at check-in, and I have included photos of it below.
Our food arrived promptly and tasted delicious. After eating, we headed down to the ground floor lobby to wait for the motor coach that would take us to Port of Miami for our Disney cruise.

Final Thoughts on Disney Cruise and Stay Miami

My family and I really enjoyed our experience at the Four Seasons Hotel in Miami. All of the employees we met were super nice and helpful. The dining options and pool area were really convenient for those traveling with little kids.
If you are sailing out of Miami and looking for a hotel near the port, we highly recommend the Four Seasons Hotel. Those sailing with Disney Cruise Line can easily call DCL to add the hotel stay onto your cruise package.

We have another cruise scheduled later in the year and are already planning to book the Four Seasons again since we loved it so much!

Where do you like to stay before a Disney Cruise in Miami?

Comment below to share!