Best Things to Do in Santa Rosa Beach with Kids
Are you planning a family vacation to Santa Rosa Beach in Florida? My family and I just returned from a fabulously fun and relaxing trip to this beautiful town on Highway 30A.
With world famous beaches and kid friendly activities, Santa Rosa Beach is the perfect place to vacation with your family.
Located on the Florida panhandle between Miramar Beach and Panama City Beach, Santa Rosa Beach provides all kinds of kid-friendly activities.
From outdoor activities to water sports to nature trails, Santa Rosa Beach offers plenty of fun things to do for visitors of all ages.
In this post, I will detail some of the most fun, kid-friendly things to do in Santa Rosa Beach, FL as well as ways to help your beach vacation run smoothly.
(Some of the links in my posts are affiliate links. If you make a purchase through one of these links, I may receive a small compensation at no extra cost to you. As an Amazon affiliate, I earn from qualifying purchases.)
Santa Rosa Beach Vacations
If you are looking for a place to stay during your Santa Rosa Beach vacations, you have several options for condos and houses to rent.
Those families who are familiar with towns like Destin or Panama City may be accustomed to seeing high rise condominiums and hotels along the coast.
Santa Rosa Beach (as well as some of the other towns along Highway 30A) is a bit different in that the gulf front accomodations are typically in the form of houses or smaller condos.
Vacation rentals of all different sizes are typically readily available depending on the time of year of your trip.
If you're looking for the best vacation rentals for your Santa Rosa Beach vacation, we recommend checking out VRBO.
My family and I tend to use the VRBO website when booking accommodations on our trips to Florida because it's so easy!
VRBO allows you to narrow your search by many different factors so that you can easily find a location that meets your needs.
Just choose to filter by number of bedrooms, bathrooms, amenities, price, etc. and you will see numerous properties that match your criteria.
I particularly like that VRBO allows you to see tons of photos AND read lots of reviews rather than blindly booking a rental property.
You can visit VRBO (Vacation Rentals by Owner) to see what they have available during your preferred vacation dates.
If you prefer staying in a hotel rather than in a vacation home, you may want to check out the nearby town of Sandestin.
This area is a short drive from Santa Rosa Beach, and Sandestin offers lots of hotel options.
Grocery Stores in Santa Rosa Beach
If you are able to rent a property with a full kitchen or if you just need to grab a few items, Santa Rosa Beach offers several grocery stores within a short 5-10 minute drive.
My family and I tend to utilize the Publix at South Walton since they have a great selection of items.
This Publix store is also really convenient because they offer grocery pick-up and delivery. It's a great option for families who don't want to mess with grocery shopping while on their beach vacation!
If you need additional items for your trip, the Walmart Supercenter in Santa Rosa Beach also provides pick-up and delivery services.
This way you can spend your time hitting the beach while still making sure you have all your family's must haves.
Both of these stores completely have you covered during your beach vacation. Not only do they sell food and grocery items, but you can also find things like beach toys, sunscreen, and boogie boards.
So, if you forget to pack something important or if you just don't have space in your vehicle, you can easily stop at one of these stores to find what you need.
Santa Rosa Beach Kid Activities
In addition to spending time on the beautiful beaches, Santa Rosa Beach offers lots of activities full of family fun. 
You can find several activities within walking distance of your Santa Rosa Beach rental.
In addition to playing in the swimming pool at your vacation rental or splashing in the waves of the ocean, these are some of our top picks for fun things to do in Santa Rosa Beach:
Timpoochee Trail
Stretching nearly 20 miles of Highway 30A, the Timpoochee Trail is a paved walkway that is great for strolling and jogging.
The scenic trail is a great spot to see wildlife as you explore the neighboring towns.
My kids enjoyed walking this trail each evening of our trip as we headed into the town center for ice cream. The paved walkway is perfect for bike riding and strollers.
Special Events
Make sure you check out the event schedule for Santa Rosa Beach before your vacation. You can often find kid friendly activities like outdoor movies, live concerts, and farmers market in the area.

If you don't want to travel down to a neighboring beach town for entertainment, Gulf Place Town Center is within walking distance of most Santa Rosa Beach rentals.
The restaurants and shops here often featured live entertainment and other family friendly activities.
As an added bonus, many of these events are completely free for families to attend!
Explore nearby Communities
Take time to visit some of the neighboring towns on 30A like Seaside, Rosemary Beach, WaterColor, or Sandestin.
You can often find kid friendly activities and popular restaurants in the surrounding towns in addition to the ones offered in Santa Rosa Beach.
Bike Rentals
You can rent bikes to enjoy on the Timpoochee Trail or on other popular hiking trails in Santa Rosa Beach.
In addition to bike rentals, some of the shops also offer beach rentals like kayaks and paddle boards.
You will also find golf cart rentals readily available. Many people park their vehicles at the rental house for the week and use a golf cart to get from place to place.
You'll notice golf carts in the town centers, at restaurants, and even at the grocery stores.
Build Sandcastles
Building sandcastles on the white sand beaches is one of the most popular activities when visiting the Gulf Coast.
Not only is this a great way to spend quality time with your family, but it's also a lot of fun!
If you really want to increase your sandcastle skill levels, you can reserve sandcastle lessons from various companies throughout 30a. This provides a great opportunity for even older kids to get involved in the sand creations.
Gulf Place Town Center
Located just off the Timpoochee Trail and Highway 30A in Santa Rosa Beach, Gulf Place Town Center is a quaint dining and shopping district that is super fun for families.
Kid Friendly Restaurants
You will find several different restaurants in the Gulf Place Town Center that are great spots for dining and listening to live music.
These restaurants were a huge hit with all members of our family, including kids and toddlers.
Pecan Jacks Ice Creamery and Candy Kitchen
Pecan Jacks is a family owned ice creamery and candy shop located in Gulf Place Town Center. We like to make a daily trip to Pecan Jacks just after dinner each evening.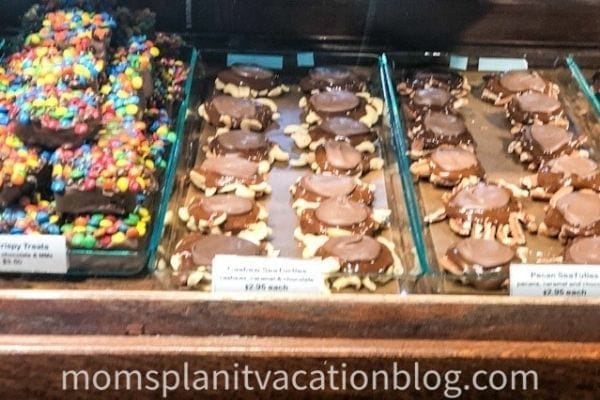 They offer lots of different candies and ice cream flavors at really reasonable prices. Pecan Jacks even serves ice cream infused with liqueur like Baileys Irish Cream for those aged 21 and older.
Things to Do near Santa Rosa Beach
Santa Rosa Beach is a great place to visit with the whole family because it's surrounded by fun beach towns.
If you're willing to venture out a bit, these are some fun places to visit in close proximity to Santa Rosa Beach:
Grayton Beach State Park
Grayton Beach State Park offers pristine beaches and outdoor recreation like hiking, paddling, and fishing.Grayton Beach is located just east of Santa Rosa Beach near the town of WaterColor.
Gulfarium
Gulfarium Marine Adventure Park is located near Fort Walton Beach, so it's a bit of a drive from Santa Rosa Beach.
Still, the sea lions and the dolphin show are really educational experiences that are super entertaining!
Destin Harbor
Destin Harbor is located near the Destin Commons and offers plenty of restaurants and activities. Kids love the Buccaneer Pirate Cruise that leaves from the Destin Harbor area.
Village of Baytowne Wharf
Village of Baytowne Wharf is an entertainment district in the Sandestin community. With lots of shops, bars, and restaurants, the Village of Baytowne Wharf features plenty of fun for all ages.
Kids love the Baytowne Adventure Zone with activities like ziplining, climbing, trampolines, and more. Toddlers and little kids enjoy the carousel and live entertainment.
Crab Island
Crab Island is located in Destin, and it's a great place to spend the day with your friends and family. Just rent a pontoon boat and head over to the shallow waters of Crab Island. You'll find plenty of space to swim along with food truck style dining options on boats.
Big Kahuna's
Big Kahuna's Water Park is also located in Destin. It features small and large water slides that are perfect for escaping the hot summer heat in Florida.
Final Thoughts on Things to Do with Kids in Santa Rosa Beach
Santa Rosa Beach and the nearby area are full of so many fun activities for families. It's really an ideal place for a beach vacation with kids.
You can easily spend your entire trip in the Santa Rosa Beach area. But, if you do decide to venture out, the places above are great spots for additional fun!
Overall, we had a wonderful time in Santa Rosa Beach on our Florida family vacation.
Since we visited during the last week of April, the weather was really mild at around 75 degrees each day. The evenings did get cool, so make sure you add a jacket to your packing list if you are visiting in cooler months.
Since Santa Rosa Beach doesn't offer as many high rise condos as neighboring Destin, the beach was much less crowded and really relaxing.
This (combined with the easy access to the Timpoochee Trail for strolling into town each evening) made Santa Rosa Beach a really great vacation spot with kids!
What are your favorite kid friendly things to do in Santa Rosa Beach?
Comment below to share!