7 Festive Winter Activities for Kids in Chattanooga [2021]
You may already know that the city of Chattanooga is FULL of fun things to do with kids during the warmer months.
But, what activities are available during the winter?
Paddle boarding and kayaking on the river downtown are obviously not going to be the most realistic activities during cold winter weather!
Fortunately, the "Scenic City" offers multiple activities and events for your holiday trip during the months of November and December (and some even into January).
If you are planning a weekend trip to Chattanooga during the Christmas season, these kid-friendly activities are sure to put you and your family in the holiday spirit!
Things to Do in Chattanooga in December (and beyond)
If you're looking for something to do in Chattanooga this December, we've got you covered!
From festive events and activities to unique shopping and dining experiences, check out our list of can't-miss happenings in the Scenic City this month.
1. Polar Express Train Ride
This activity sits at the top of my Chattanooga winter activities list because it is one of my family's favorites!
If you have not yet traveled on one of the Tennessee Valley Railroad's special holiday train rides, you are really missing out!
Tennessee Valley Railroad Museum does an amazing job of organizing the whole experience from beginning to end. Guests can really tell that a lot of thought and consideration have gone into every detail of these special train rides.
The North Pole Limited ride is a really unique experience that is enjoyable for both kids and adults. If you are looking for a Polar Express type of experience, this is it!
During your journey to and your time at the North Pole, your family will enjoy holiday stories, songs, crafts, and visits from Santa himself.
This round trip Christmas experience is about an hour long, which is a perfect length of time even for toddlers and little kids.
The Christmas train ride runs from November 20 through December 23 this year. You can visit the website for Tennessee Valley Railroad to find schedules for the North Pole Limited Christmas ride.
2. Holiday Lights at Chattanooga Zoo
The Chattanooga Zoo at Warner Park is always a fun place to take kids.
It's small enough to tour even with the littlest of kids. It's also really affordable!
For Christmas, the zoo goes all out by decorating with Christmas lights and by providing family-friendly activities.
When you spend time at the zoo during their "Holiday Lights at the Zoo" event, you will be able to take part in activities such as crafts, games, Santa meet and greets, and animal exhibits.
3. Ice on the Landing at the Chattanooga Choo Choo
Ice on the Landing is back again this year at the historic Chattanooga Choo Choo hotel. This super fun annual activity runs from November 19, 2021 through January 30, 2022.
Skates and skate buddies (for those who aren't experienced skaters) are available for rent at the rink as well.
Ice on the Landing is in a really great location because guests can also check out the Chattanooga Choo Choo hotel.
If you work up an appetite while ice skating, there are lots of food options inside this unique hotel or within walking distance.
Some of our favorites include Stir and Terminal Brewhouse.
Both of these restaurants offer diverse menus so everyone in your party can easily find something to order.
4. Rock City Christmas- Enchanted Garden of Lights
This year, Rock City is hosting its Enchanted Garden of Lights event beginning November 19 and running through January 2. During this holiday event, you can enjoy Christmas decorations, live music, and festive activities.
Guests can also meet and get their picture taken with Santa in Rock City's North Pole area.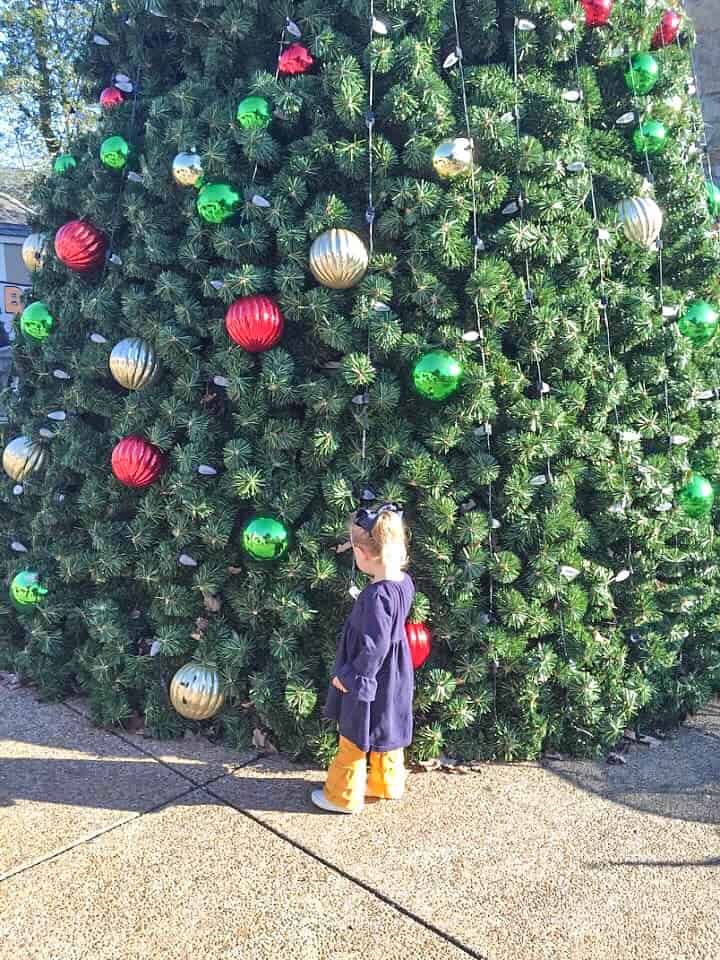 The Enchanted Garden of Lights event takes place most evenings from 5:00-9:00 so that visitors can enjoy the expansive Christmas lights set up throughout the property.
You can visit the official Rock City website for more information and to purchase tickets.
5. Christmas Underground at Ruby Falls
The amazing Ruby Falls hosts a holiday event known as Christmas Underground: A Journey to the North Pole.
This event takes place on select dates during the month of December and is full of holiday lights and activities.
Here, visitors can travel through the cave and into different holiday lands complete with snow and winter decorations.
Guests can also meet Santa and receive a complimentary digital photo during their Christmas Underground journey.
You can find more information on dates and pricing by visiting the Ruby Falls website!
6. Aquarium Christmas Experiences
The Tennessee Aquarium in downtown Chattanooga is a really popular tourist destination and is loads of fun for kids of all ages.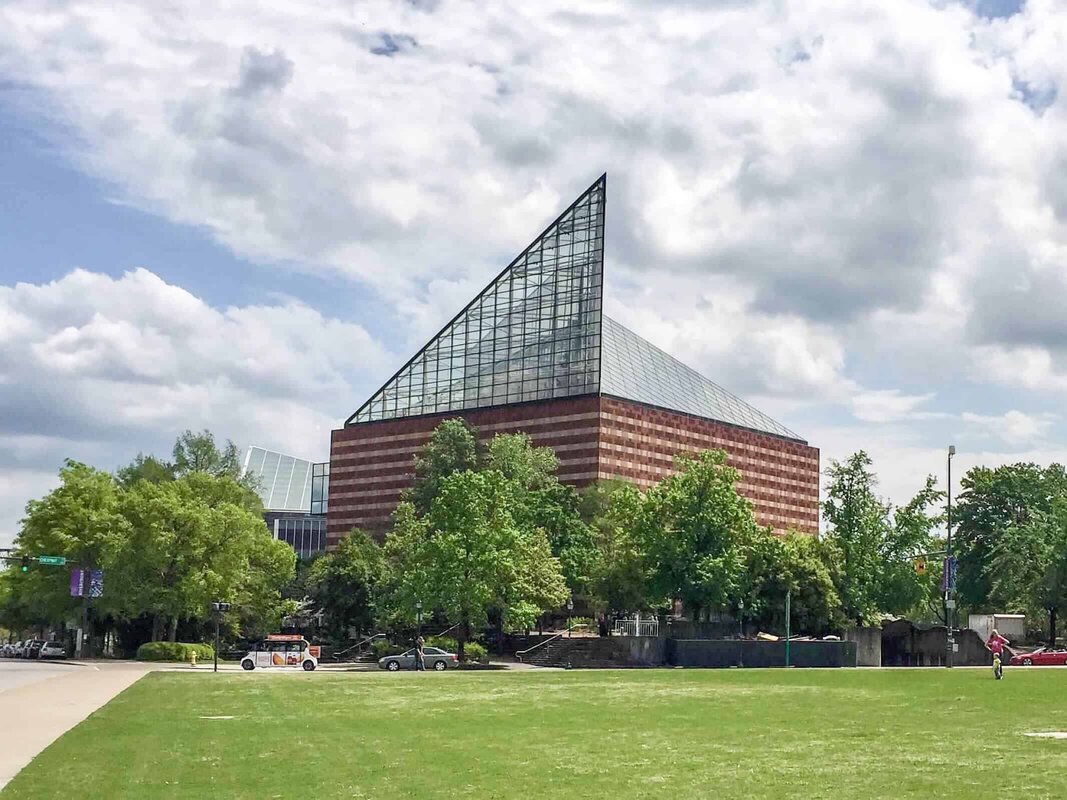 Beginning in November and running through December, the aquarium provides some special holiday surprises for its visitors.
Holidays Under the Peaks is the Tennessee Aquarium's Christmas experience which features Santa Clause scuba diving with the animals.
You can visit the Tennessee Aquarium website to find more information on this event including details about the IMAX Theater's holiday showing of The Polar Express.
7. Holiday Market
During the month of December, the Chattanooga Market moves indoors for their special Chattanooga Holiday Market.
This family friendly event takes place on Saturdays and Sundays at the Chattanooga Convention Center.
Local vendors set up tables throughout the convention center, and visitors can find all sorts of holiday items from food to jewelry.
My kids love finding sweet treats at the Chattanooga Market. They also enjoy the handmade toys and costumes that are available from some of the vendors.
You can even enjoy hot chocolate and a visit with Santa during certain times of the Holiday Market.
Final Thoughts on December Activities in Chattanooga
Chattanooga is a great city to visit all year long, but it is especially fun during the holidays. The kid friendly attractions in the Scenic City really go all out at Christmas time.
You and your family are sure to make some special memories on your Tennessee family vacation as you experience these holiday events during November, December, and even into January.
What is your favorite winter activity in Chattanooga?
Comment below to share!
↓↓Pin This for Later↓↓