21 Best Things to Do in Chattanooga with Kids (2023)
If you're looking for fun things to do with kids in Chattanooga Tennessee, you've come to the right place!
Chattanooga is a great city to explore with kids any time of year. The Scenic City, as it's affectionately called, is a popular destination for families because it offers so many activities for kids of all ages.
Whether you are looking for indoor or outdoor experiences, the list below is full of options for family fun in Chattanooga!
From playing in the park to visiting the zoo and the aquarium, the Chattanooga attractions on our list are the top spots for family-friendly fun in and around downtown Chattanooga.
Your kids (and you) are sure to love these unique family attractions!
(This post may contain affiliate links. If you make a purchase through one of these links, I may receive a small compensation at no extra cost to you. Please see my disclosure policy at the bottom of this page for more details.)
1. Tennessee Aquarium
You have probably seen the Tennessee Aquarium mentioned on every Chattanooga attraction list you have read, and there is a reason for that! The Tennessee Aquarium is a must-see for anyone spending time in the downtown Chattanooga area.
Kids of all ages, including toddlers and teens, enjoy seeing all of the animals and exhibits on display at the Tennessee Aquarium. If you are planning to visit with smaller children, you will be pleased to know that both of the aquarium's buildings (River Journey and Ocean Journey) are completely stroller friendly.
Visitors to Chattanooga's aquarium can view all types of animals, including lemurs, sharks, sea turtles, river otters, and more. The aquarium even offers a butterfly garden and touch tanks where guests can hold butterflies or pet stingrays and catfish.
Since the Tennessee Aquarium sits right on the river in downtown Chattanooga, it offers a convenient location for other sightseeing adventures you may have planned. The courtyard area in front of the aquarium is packed with fun too.
Here, you will find channels with shallow water streaming through where little ones love to splash and play. (Just make sure to bring a change of clothes for the kids.)
You will also find all sorts of kid-friendly restaurants within walking distance to the Tennessee Aquarium no matter what type of food you like. If you're looking for specific restaurant recommendations near the Chattanooga Aquarium, check out Puckett's Restaurant for some delicious southern food. This conveniently located dining spot also features live music on select nights.
2. Raccoon Mountain Caverns
If your family enjoys camping, Chattanooga offers several parks and campgrounds perfect for kids. One of the more popular options, Raccoon Mountain Caverns, offers camp sites and walking tours.
Located just west of the downtown Chattanooga area, Racoon Mountain Caverns sits within a short drive of the city center and Lookout Mountain.
The cavern tours are available for kids ages 4 and older and are both informative and fun! The Raccoon Mountain Caverns feature walking trails that are well-lit with lots of educational features.
3. Creative Discovery Museum
The Creative Discovery Museum is another fun place to spend time with kids in Chattanooga. Like the Tennessee Aquarium, it is located downtown within walking distance to many restaurants and attractions.
The Creative Discovery Museum features all sorts of activities that are super fun for kids of any age. It also offers one of the most elaborate play features in Chattanooga.
The best part about this gigantic playground is that it's located indoors! So, your kids can enjoy climbing and sliding on cold, rainy days too.
The Creative Discovery Museum features exhibits for those interested in music, art, design, animals, pretend play- the list goes on and on. Make sure you check out the dinosaur dig site where kids can dig in the sand to find dinosaur bones!
4. High Point Climbing
High Point Climbing is located in the heart of Chattanooga, just a short walk from the Tennessee Aquarium. This gigantic climbing center offers a great time for adventure lovers with activities like rock climbing, ropes courses, and fitness classes.
With rock climbing walls located both inside and outside the building, High Point Climbing features plenty of options for families to enjoy. Plus, the Kids Zone offers fun climbing opportunities for kids as young as 3 years old.
5. IMAX
The IMAX Theater in Chattanooga is located downtown and just across from the Tennessee Aquarium. Families can enjoy a wide selection of films at the IMAX, ranging from informative animal documentaries to the latest Hollywood blockbusters.
You can even bundle your IMAX tickets with your aquarium passes for a day full of fun in downtown Chattanooga.
6. Chattanooga Zoo at Warner Park
The Chattanooga Zoo is a great place to spend time in the city. Your kids will love seeing so many different animals, including:
chimpanzees
jaguars
Komodo Dragon
snow leopard
red panda
meerkats
The zoo is laid out really well and offers so much shade. This makes it a really nice outdoor activity even during the hot summer months. The Chattanooga Zoo also provides a petting area where kids can pet and brush goats.
In addition to the animals mentioned above, the Chattanooga Zoo also offers train rides and a carousel. You will even find a super fun playground right next door to the zoo.
Make sure you check out the Chattanooga Zoo's website before your trip. They often have really fun events for the family that are always a blast!
7. Tennessee Riverwalk
The Chattanooga Riverwalk is a super fun (and FREE) place to spend time in the Tennessee Riverpark. This expansive pathway links the downtown Chattanooga area to the popular North Shore district.
On the downtown side of the Riverwalk you will find Riverfront Playground, the Tennessee Aquarium, and the Bluff View Arts District.
Follow the Riverwalk across the Walnut Street Bridge, and you will find yourself in Coolidge Park. The Riverwalk provides beautiful scenery for those choosing to jog, bike, or stroll along the paths.
If you work up a sweat while spending time on the Riverwalk, stroll over to The Ice Cream Show. This adorable ice cream shoppe sits just off of the Walnut Street Bridge on the downtown side.
8. Tennessee Valley Railroad Museum
Chattanooga is known for its trains; so why not enjoy a fun train ride in the Scenic City? Guests can choose to embark on one of the Missionary Ridge local train rides or hop on one of the themed specialty rides.
Throughout the year, the Tennessee Valley Railroad hosts special events that are perfect for kids in Chattanooga. With holiday rides for Halloween, Christmas, and Easter, this unique activity is fun for all ages.
9. Chattanooga Lookouts
Located in downtown Chattanooga next to the children's museum, you'll find AT&T Field. This stadium is the home to the minor league baseball team, the Chattanooga Lookouts.
Kids of all ages enjoy spending time at the Chattanooga Lookouts games since they are always jammed pack with action and entertainment. Depending on the date you visit, you may even experience special events like Kids Run the Bases or fireworks displays.
10. Southern Belle Riverboat
If you've spent any time viewing the Tennessee River in downtown Chattanooga, you've probably noticed the large Southern Belle Riverboat.
With holiday cruises for Christmas, Easter, and more, the Southern Belle Riverboat is a super fun river cruise in Chattanooga that kids love. Families can even enjoy dinner or a holiday meal aboard the popular riverboat.
11. Renaissance Park
Renaissance Park is located in Chattanooga's North Shore neighborhood and features walking trails with views of the Tennessee River. Kids especially enjoy sliding down Cardboard Box Hill in Renaissance Park.
Here, visitors can drag their (broken down) cardboard box to the top of the steep hill before sliding down. It's like experiencing sledding without the snow!
If you work up an appetite while climbing the hill, walk over to Edley's Bar-B-Que for a delicious meal. Edley's features a large interior dining space plus an outdoor patio that's perfect for families.
12. Hunter Museum of American Art
The Hunter Museum of American Art sits in downtown Chattanooga in the trendy Bluff View Arts District.
This is a super cute area of Chattanooga that features quaint cafes and local restaurants. Visitors who are art enthusiasts will love viewing the incredible work on display at the Hunter Museum of American Art.
After touring the museum, head over to Tony's Pasta Shop and Trattoria to enjoy an excellent Italian meal. And don't forget to follow it up with dessert from Rembrandt's Coffee House.
13. High Point Zip Adventure
Adrenaline junkies will love the High Point Zip Adventure located at Ruby Falls. Guests can enjoy panoramic views from the top of Lookout Mountain as they zoom along on the 700 feet of zip line.
14. Chattanooga Ducks
The Chattanooga Ducks offers a really unique boat ride for visitors to the Chattanooga area. Guests can board the amphibious boat in the heart of Chattanooga where they are driven through the streets of downtown to the Tennessee River.
Once at the edge of the river, the Chattanooga Duck Boat slides down a ramp to plunge into the water. Families can enjoy a leisurely ride on the boat through the river as the captain narrates interesting stories about the history of Chattanooga.
The captains have also been known to allow the kids onboard to take turns driving the boat while on the water.
15. Coolidge Park
Coolidge Park sits right across the river from downtown Chattanooga in the North Shore area. You can use the Walnut Street Bridge to walk across the river from the downtown area to the North Shore side of town.
This bridge is a pedestrian only walkway, so you don't have to worry about vehicles (except bicycles) driving by. Your kids will find so many fun things to do at Coolidge Park, including renting bicycles, walking along the pathways, and playing ball or throwing a frisbee on the lawn.
Both of my girls are young, and their favorite part of Coolidge Park is the water feature. This water play area consists of lots of small fountains surrounding a large, main fountain.
The Coolidge Park Carousel sits right by the fountains and is a favorite for families as well. If you spend time at Coolidge Park, make sure you check out Clumpies for some handcrafted ice cream in many delicious (and seasonal) flavors!
16. Lake Winnepesaukah
If your kids love amusement parks, Lake Winnepesaukah is a great place to spend time near Chattanooga. This local park is home to lots of toddler-friendly rides as well!
If you are visiting the area with older kids, Lake Winnie offers larger rides and roller coasters. In the warmer months, you can enjoy the water park at Lake Winnesaukah, which is known as SOAKya Water Park.
This is sure to be a hit with any adventure loving kids taking a trip to Chattanooga!
17. Chattanooga Choo Choo
The Chattanooga Choo Choo is a historic hotel in the downtown Chattanooga area. This hotel is really fun to tour as it often hosts special activities in the courtyard.
One of Chattanooga's popular winter activities, Ice on the Landing, takes place at the Chattanooga Choo Choo as well. Families love skating in this festive ice rink during the colder winter months in Chattanooga.
The Choo Choo is also near some fantastic restaurants including Stir, State of Confusion, and Urban Stack.
18. Ruby Falls
Ruby Falls is a super popular attraction in Chattanooga and is often combined with a trip to Rock City on Lookout Mountain. When visiting Ruby Falls, guests travel down into caverns where they learn about this historic site.
During your tour you will see the massive waterfall, which is known as Ruby Falls. This breathtaking site is a family favorite and draws all kinds of crowds to the Chattanooga area each year.
If you are visiting the Chattanooga area with babies or toddlers, note that Ruby Falls requires a lot of walking and is not stroller friendly. Therefore, you will probably want to wear a baby carrier or wait until your little ones are a bit older before visiting.
19. Lookout Mountain Incline Railway
Lookout Mountain's Incline Railway is another one of the biggest draws to Chattanooga. Once you make your way to the top of the mountain, you can totally see why!
The views on the ride up to Lookout Mountain are absolutely breathtaking, and there are so many things to see once you get to the top. History buffs will love checking out the historic military parks sitting at the top of the mountain.
20. Rock City
Rock City is one of my family's favorite spots near Chattanooga. We visit multiple times a year, and my kids constantly ask to go back. They love exploring the caves, paths, and bridges at Rock City.
There's also a really entertaining and informative Birds of Prey show that allows you to get up close with some amazing birds.
Once at Rock City, your family will have beautiful views of Chattanooga and its surrounding areas. You will fine waterfalls, bridges, and caves that all make Rock City super fun for kids of all ages.
Make sure you check out the event schedule before your visit as Rock City often hosts special events and live entertainment.
21. Learning Express
If you're spending time in the North Shore area near Renaissance Park, stroll over to the 2 North Shore shopping area to visit The Learning Express. This adorable toy store features all kinds of educational and fun toys for kids of all ages.
The Learning Express is also located near the Sandbox Children's Boutique, which offers the cutest clothes, shoes, and gifts for babies, toddlers, kids, and tweens. If you work up an appetite while shopping, walk over to the nearby Whole Foods and pick up some ice cream or sweet treats to enjoy on the patio.
Best Places to Stay in Chattanooga with Kids
Whether you're looking for camp sites, hotels, or home rentals, Chattanooga offers plenty of accommodation options for families. We will discuss some of our favorite spots to stay with kids in Chattanooga below:
Campgrounds
As mentioned above, Racoon Mountain Caverns features a campground located near Rock City and downtown Chattanooga. This is a great spot for those families traveling by RV or looking to rent a cabin.
If you are open to driving just a bit north of the city, Chester Frost Park is another kid-friendly option for campgrounds in the area. Chester Frost Park offers a playground, beach, and plenty of camping sites for families.
Cabins
If you are wanting a rustic feel with more amenities, you can rent a cabin near downtown Chattanooga. We like to use VRBO when renting vacation homes, and these are some of the cabins near the Scenic City that feature awesome reviews: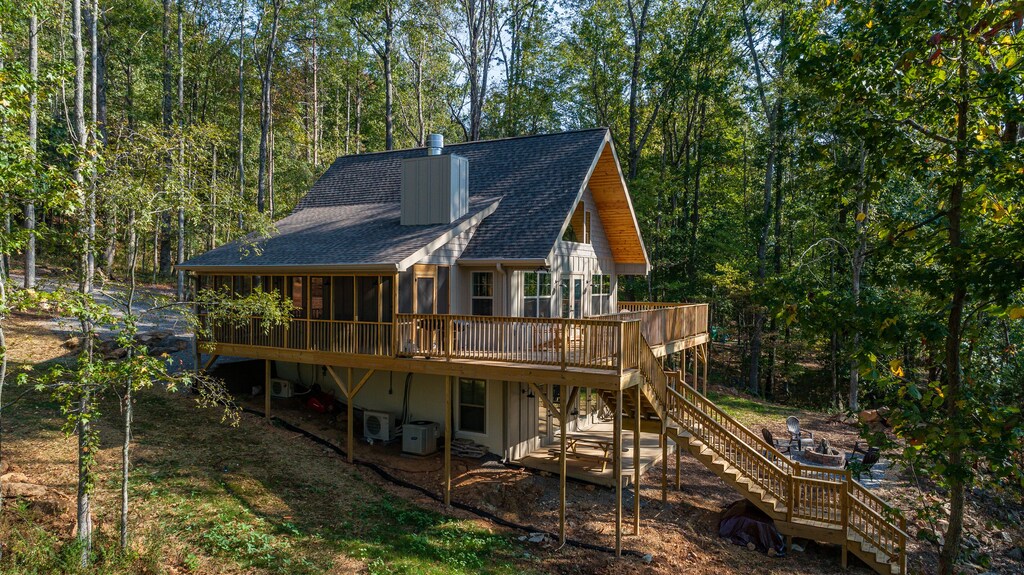 Hotels
Chattanooga is home to many family-friendly hotels both in and around the downtown area. Whether you're looking for luxury accommodations or spacious family suites, the hotels in our list below offer amenities to fit various needs.
Final Thoughts on Things to Do in Chattanooga with Kids
As you can see, Chattanooga offers so many unique opportunities for family fun in and around the city.
If you are wanting to stay close to the downtown Chattanooga area, you can find all sorts of fun things to do, including free parks, popular attractions, and amazing restaurants.
Families who are interested in venturing just outside of the downtown Chattanooga area will find even more kid friendly activities, including Lookout Mountain, the Incline Railway, and Ruby Falls.
No matter your kids' ages or interest levels, you are bound to find lots of exciting things to do with kids in Chattanooga on your family vacation!
What are your favorite things to do with kids in Chattanooga?
Comment below to share!
↓↓Pin This for Later↓↓