Best Spots to Meet Disney Cruise Characters
It's no secret that Disney Cruise Line offers amazing family vacations! One of the highlights for kids is getting to meet their favorite Disney characters.
But where can you find those characters on the ship? This guide will help make sure your youngsters have a magical time meeting all their favorites.
Disney Cruise Line provides character meet and greets in numerous spots around the cruise ship and even on Castaway Cay.
If you have taken a family vacation to Disney World, you may be dreading the long lines to meet characters on the cruise ships.
However, you will find that meeting characters on a Disney cruise is a much different experience than the one in the Disney World parks.
The characters on the cruise ships are much more accessible, and the lines are nowhere near as long as they are at Walt Disney World.
In this post, I will discuss some really great spots for meeting Disney cruise characters on your family vacation!
Character Meet and Greet OFF the Ship
You will find the most opportunities for meeting Disney characters onboard the cruise ship. However, there are a couple places off the ship you can greet your favorite characters as well.
Disney Cruise Characters in Terminal
Did you know you can often meet a Disney character before you even board the cruise ship?
Some of the Disney Cruise Line terminals provide character meet and greets for guests waiting to set sail on embarkation day.
For example, in the Disney Cruise Line terminal at Port Canaveral, you can often find Mickey and friends greeting guests.
This character line tends to be a bit longer than the ones onboard the cruise ship However, it's a great way to pass the time while waiting to board.
Disney Cruise Characters on Castaway Cay
Castaway Cay, which is Disney's private island in the Bahamas, offers some really great character interactions as well.
You can find the characters dressed in their beach/island attire, which is super cute for pictures!
While on your vacation, you can check the daily personal navigator or the Disney Cruise Line Navigator App to see a list of characters you can meet on the island.
Often, the characters are positioned near the entrance/exit to the ship, so you don't have to go out of your way to find them.
One of my family's favorite characters to see on Castaway Cay is Olaf from Disney's Frozen.
Character Meet and Greet ON the Ship
One of the most common places to find Disney characters on a cruise is on one of the ship's decks.
Characters are often available near the theater and atrium along with other popular locations like the pool deck.
Some of the characters who are easiest to find include:
Mickey
Minnie
Daisy
Donald
Goofy
Pluto
In addition to daily meet and greets on the ship decks, you will find characters in other special locations on board. We will discuss some of these below:
Disney Cruise Character Breakfast
If you are traveling on a longer itinerary (at least 7 nights) with Disney Cruise Line, you may have an opportunity to attend a character breakfast.
During this breakfast, characters from Disney Jr. shows are available for meet and greets.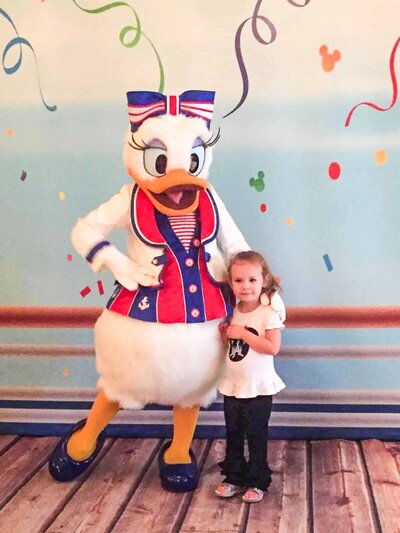 You must have tickets to attend this event, which you can reserve on your account during online check in.
If your cruise is shorter than 7 days or does not offer the character breakfast, know that you will still have plenty of characters to meet around the ship.
My family and I have even sailed on 3-day cruises and had lots of opportunities to meet our favorite Disney characters.
Frozen Meet and Greet
Some of the characters on a Disney cruise are so popular that you must book a reservation to meet them.
This is easily done on your Disney Cruise Line online account once your booking window opens (typically 75 days before sailing).
You will see available times for meet and greets with the Frozen characters (Anna and Elsa).
In addition, you can schedule a time to attend the Princess Gathering, which is a meet and greet with multiple Disney princesses.
Some of the princesses we have met during the Princess Gathering include:
Tiana
Ariel
Belle
Cinderella
Rapunzel
Both the Frozen meet and greet and the Princess Gathering are free events, so you don't have to worry about adding them to your cruise budget!
It's also important to note that these events tend to sell out. So, you will want to book your time slot right when your online check-in date opens up.
If all of the times are taken before you are able to book one, just visit Guest Services once you board the ship. They should be able to find availability for you.
Royal Court Royal Tea
Disney Cruise Line also offers a character event called Royal Court Royal Tea.
You can book this experience during your online check in process. However, this ticketed activity does cost extra.
Dining Rooms
Some of the Disney cruise ships offer character experiences during your dining time. For example, the Disney Wonder features a New Orleans themed dining room called Tiana's Place.
During your meal, characters from the movie Disney's Princess and the Frog come out to greet guests.
Similarly, the Disney Magic cruise ship offers a dining room known as Rapunzel's Royal Table.
Here, Rapunzel and friends from the movie, Tangled, entertain and meet with guests.
Kids Clubs
If you are cruising with little kids, they may be able to meet characters in the Kids Clubs onboard.
Depending on your cruise itinerary, different character interactions could be available in the clubs.
One of the more popular character greeting events is Pluto's Pajama Party. This is when Pluto makes an appearance in the youth club to have a dance party with the kids.
Similarly, Puzzle Playtime with Mickey and Friends is a great event that also happens in the kids clubs.
Just like the name implies, Mickey visits the Oceaneer's Club with some of his pals to work puzzles and play games with the kiddos.
Star Wars, Marvel, and Other Characters
If you are cruising on a themed cruise like Marvel, Star Wars, Christmas, etc, you may have additional characters and experiences offered throughout your cruise.
The personal navigators and Disney Cruise Line Navigator App will show when and where these character events are scheduled to take place.
In addition, if you are cruising with a baby or toddler, you may be interested in the Wake Up with Disney Jr. activity.
This is a really fun dance party that takes place during some of the mornings on the ship. Your little one can dance and play with popular characters from Disney Jr. shows.
Final Thoughts on Disney Cruise Character Meet and Greet
The whole process of meeting characters on a Disney cruise is super easy compared to the parks. Other than the few ticketed events that need to be pre-booked, you can walk up and meet characters all throughout the day.
Just check the paper navigator or your Navigator App each day to determine which Disney cruise character meet and greets are the most important to you.
Once you arrive at the meet and greet line, you will notice that it's a much smoother and faster process than what you may have experienced at Walt Disney World.
Which Disney characters do you hope to meet on board the cruise ship?
Comment below and let me know!