Are Packing Cubes Really Worth It for Travel?
If you're a frequent traveler, you're probably wondering about all the hype surrounding packing cubes.
Maybe you already have a system in place for keeping your clothes organized while traveling. Or maybe an unorganized suitcase doesn't really bother you.
Either way, you may be wondering why you would need to consider using packing cubes on your next trip.
In short, it's because packing cubes are AMAZING! Once you start using them, you'll never go back to the chaos that packing once was.
My family and I started using packing cubes on both short and long vacations several years ago, and let me tell you, they became a huge game changer for all of us!
My husband even jokes that packing cubes are the best things I've ever bought off of Amazon.
So, how do they work? And are packing cubes worth it for travel?
We will cover all the answers to your questions below as we detail the best ways to use packing cubes to stay organized and to save space on your next vacation!
(This post may contain affiliate links. If you make a purchase through one of these links, I may receive a small compensation at no extra cost to you. Please see my disclosure policy at the bottom of this page for more details.)
What are packing cubes?
Years ago, my family and I decided to book our very first cruise vacation. After joining a Facebook group for our Disney Cruise voyage, I noticed so many other travelers in the group raving about packing cubes.
I had never heard of the term packing cubes nor had I ever used them. Admittedly, I didn't really understand the purpose of the travel cubes at first.
In the past, I had always organized my family's outfits in Ziplock plastic bags to keep them tidy during travel.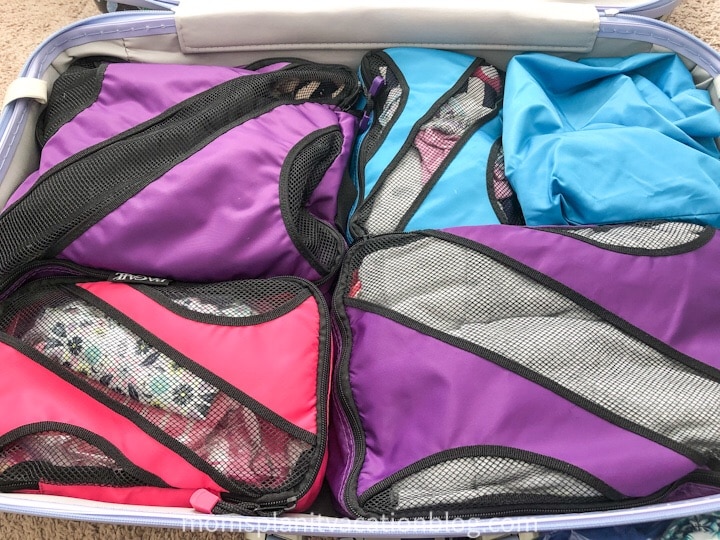 Although this isn't the worst method for organizing clothes, each gallon sized bag could basically only hold one outfit.
This meant I was purchasing a lot of Ziplock bags for each trip we went on. At the end of each vacation, I found that we had suitcases full of used Ziplock bags.
So, out of curiosity, I eventually ordered one set of packing cubes from Amazon since the prices seemed super reasonable for multiple bags.
The packing cubes arrived as a set of nylon fabric cubes in different sizes ranging from small to medium to large.
The cubes each featured a zipper for easy opening and closing along with a mesh top for breathability.
After giving the packing cubes a try, I quickly realized that the main reason travelers love travel cubes is that they allow for a stress-free packing process, including
quick packing of a suitcase
easy organizing of items by category
swift unpacking into dresser drawers or closet shelves
Packing cubes also keep your items folded neatly together inside each cube.
Have you ever opened up your suitcase to discover your clothes had shifted into a disastrous mess?
Or have you ever needed to sit on top of your suitcase in order to get it to close because it was so full of stuff?
Packing cubes completely solve these issues because they organize your belongings into tidy cubes that fit neatly inside your luggage.
When secured inside packing cubes, clothes stay put in the fabric containers rather than tossing around and becoming wadded up in a wrinkled mess.
How to Pack a Packing Cube
Let's be honest, packing for even the most exciting trip can easily turn into a stressful chore. But using packing cubes really helps to speed the process along.
So, how do you pack a packing cube? Just follow these simple steps:
1. Categorize Your Packing Cubes
Designate each of your cubes to a category or clothing type. Depending on which packing cube set you purchase, you should have cubes of various sizes.
For example, my set of packing cubes came with one large, two medium, and one small cube.
I use the large cube to hold my main outfits for a trip. This includes pants, tops, skirts, dresses, etc. (Typically, I am able to fit about a week's worth of outfits into this large cube.)
Then I pack one of the medium cubes with pajamas and the second medium cube with swimsuits and coverups. The small cube is great for storing smaller items like undergarments and socks.
2. Place Clothes in the Packing Cube
Once you've determined which clothes go in each cube, you are ready to pack. I like to fold my clothes before placing them inside a packing cube, but others prefer to roll up each item.
Either way you choose, you should be able to fill up each cube with your needed items.
3. Zip up the Packing Cube
Once you have filled each cube, you can zip it up. You'll want to make sure your clothing items are securely inside the cube and not in the way of the zipper.
This prevents you from damaging your items and the zipper closure on the packing cube.
4. Place Packing Cubes in Suitcase
Your next step is to place the packing cubes in your suitcase. This can sometimes feel like a game of Tetris since you'll want to rotate the bags depending on the size of your luggage.
You can place multiple bags on top of each other and even stuff the smaller ones on the sides if needed.
5. Enjoy Your Trip
The items stay secure in their respective cubes until you get to your destination. Once you arrive at your travel stop, you don't have to worry about mixing up clothes that are clean with those that are worn.
The packing cubes allow you to easily keep your clean clothes in separate containers away from your dirty laundry. Some of the packing cube sets even come with laundry bags for dirty clothes!
How to Use Packing Cubes for Family Travel
Packing cubes are also great for family travel!
After determining that I really liked the concept of the travel cubes, I ordered three additional sets in different colors for my husband and two kids.
Before Your Trip
The main reason you want to order various colors is for each family member to have their own specific color of packing cubes.
For example, one of my daughters uses purple cubes while the other uses pink. When packing, you would organize the kids' cubes in the same way as I did for myself as mentioned above.
If you have a toddler or a young child, you may not need a full set of cubes since little ones have smaller clothing.
Typically, I can get by with two or three cubes for my four-year-old. This is nice because you can use the extra cube for toiletries, accessories, diapers, etc.
While on Vacation
The packing cubes come in handy when you get to your destination too. Once you arrive at your accommodations, you save tons of time putting away the clothing in dresser drawers.
Rather than having to transport piles of clothes to a cabinet, you just gather the packing cubes and place them in each drawer.
When you need an item, you simply locate that family member's colored cube and remove what you need.
If your kids are older, they can even pack and unpack independently. My four-year-old already knows that her items are in the pink cubes.
When she searches for an item, she can easily identify which cubes contain her clothes.
Using Packing Cubes for Carry On Luggage
Packing cubes are flexible and great for using in carry-on luggage as well. Many of the packing cube sets come with smaller cubes or even a slim cube that are great for small items.
These would fit easily inside a carry on bag or travel backpack. Packing clothes inside packing cubes also helps keep carry on luggage organized.
If you need to search for identification documents or other materials in your carry-on, you can easily pull out the packing cubes to find what you need.
This is a much simpler process than digging through wadded up clothes in your bag to find a needed item.
Compression Packing Cubes
In addition to regular packing cubes, many travelers rave about compression packing cubes or compression bags.
You may be familiar with compression bags that you vacuum air out of to save space. Compression packing cubes don't require the use of a vacuum, so they don't condense as much.
If you need your bulky items significantly compressed for packing, you may consider using one of the vacuum bags. These work well even with puffy winter coats and snow gear.
However, you will want to keep in mind that the weight of your items remains the same even if they are compressed.
Therefore, you don't want to fill your suitcase with vacuumed bags only to find out you're well over the bag weight limit upon arrival at the airport.
If you choose to use the vacuum sealed bags, you'll also want to make sure you have a vacuum at your travel destination so that you have a way to use the bags for your return flight.
For those travelers who don't want to chance surpassing the weight limit on their bags or who don't have access to a vacuum while traveling, we suggest using the travel compression bags pictured above.
Even though these compression packing bags don't use a vacuum, they do condense your clothing a bit. Plus, they're waterproof, so they keep your clothes free from spills.
Many travelers like to purchase the compression bags to transport dirty laundry home with them. You can fill up the bag with dirty clothes, and then you use the compression bag to condense them down even further.
Best Packing Cubes
If you're searching for the best packing cube set for travel, I can't say enough great things about the cubes that my family and I have used for such a long time now.
We have been using the Bagail packing cubes for years now, and they have held up perfectly throughout all of our travels. (Amazon Affiliate Link)
The Bagail packing cubes come in a set of 6 pieces, including:
1 large packing cube
2 medium packing cubes
1 small packing cube
Laundry bag
Large bag for shoes
This six-piece set easily holds all of our clothes for both short and long vacations.
The ultralight packing cubes in this six-piece set are made from durable material that includes a mesh panel, so you can easily see what items are in each cube.
This way, you don't have to unzip each packing cube in order to determine whether it holds pajamas or swimwear.
We also love that the packing cube set includes a drawstring bag. This laundry bag is perfect for storing dirty clothes on your trip.
Additionally, the shoe bag is great at keeping footwear organized and away from clean clothes and travel accessories.
As mentioned above, I cannot recommend these packing cubes enough! They are ultra-durable and so convenient to use.
Plus, they come in an assortment of fun colors and patterns!
Final Thoughts on Using Packing Cubes for Travel
Overall, we find that using packing cubes is the best way to stay organized and save space while traveling.
You can neatly sort all of your clothes into separate cubes so that they don't end up tossed and wrinkled once you arrive at your destination.
The different color options are perfect for those using packing cubes for family travel because each family member can have their own color, making it easy to differentiate between clothes.
Unpacking your suitcase is a breeze when all you have to do is lift the travel cubes out of your luggage to place them in dresser drawers or on closet shelves.
If you're debating on buying a set of packing cubes before your next trip, we totally think it's a good idea for each member of the family.
They are the perfect item to add to a packing list for all types of vacations (beach, lake, Disney, mountain), and they make an awesome gift idea!
We don't travel anywhere without our packing cubes, whether it's for a weekend getaway or an extended vacation.
Let us know what YOU think!
Do packing cubes make a difference?
Comment below to share your experience!
↓↓ Pin This for Later ↓↓